When you advertise, you want your ad in high-traffic places.  There's no place better for an ad for your business than in our five sports calendars.  There are calendars featuring the Sartell Sabres Spring Varsity Sports, Fall Varsity Sports, Winter Varsity Sports, Varsity Activities, and the Muskies/Stone Ponies/St. Joseph Joes, and Granite City Renegades.
Sports fans want to know when the next event is, as well as family members.  Your customers will see your ad constantly when they hang this beautiful 11 x17 inch full color poster up in their home.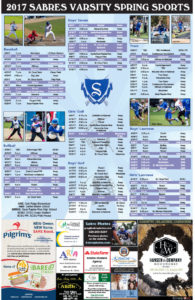 Each calendar is
distributed to 8,650 households AND more than 15,550 readers through the 
Sartell-St. Stephen Newsleader 
with an additional 350 available at the Sartell-St. Stephen High School office.
Purchase package of five 1.5 x 1.5 inch ads for the introductory price of $199 each(total $995 for all five calendars), or a package of five 3 x 4.5 inch ads  at $510 each (total $2550 for all five calendars).
Why Advertise With
The Newsleaders
There's no better value for your advertising dollar than The Newsleaders!  It's the only local newspaper that reaches over 20,000 people each week, with 82% of our readers reading the paper from cover to cover!* That means 4 out of 5 people are going to see your ad each time you advertise with us!  No need to do the math on this one, we did for you!  The bottom line is that with our valentines day promotion, it costs you only a penny per person for your ad.  There's no other print solution with value like that!
To get started, call us at 320-363-7741 or fill out the form below.
[contact-form-7 id="128592″ title="March Promos Early Bird"]