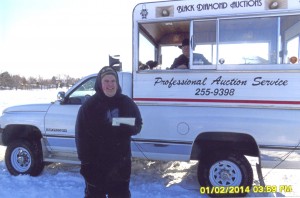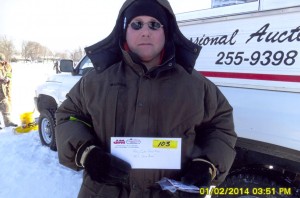 The 21st annual St. Joseph Rod and Gun Club ice fishing contest was held Feb. 1 at Kraemer Lake, St. Joseph. The winners of the contest for game fish were as follows: Jack Taufen, St. Joseph, first- place pan fish with a 9-ounce crappie and Chad Stehovich, first-place game fish with a 3-pound 6-ounce northern pike. Myron Schmitz, Cold Spring, won the grand prize drawing of a one-day fish house rental for four people on Upper Red Lake. A total of 685 fish were caught. The ice this year was 32 inches thick.
•••••••••••••••••••••••••••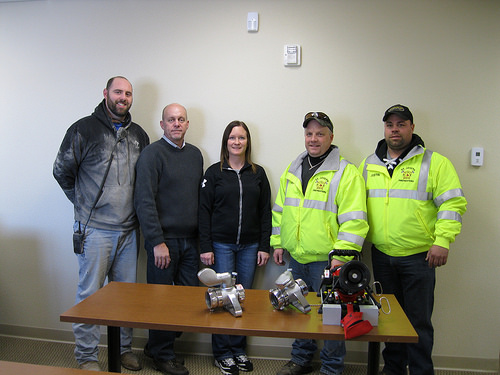 ••••••••••••••••••••••••••
Ethan Carlson of St. Joseph recently signed with Mayville (N.D.) State University to play baseball. Carlson, a senior outfielder, has been a mainstay for Apollo High School Eagles since his sophomore year where he has put together a great career. In 221 at-bats, Carlson hit .301, 19 BB, two doubles, 1 triple, 1 home run, 21 single bases, 15 runs and 27 RBI's playing for both Apollo and Waite Park American Legion teams. Carlson will be entering his second year as a captain of the Apollo High School baseball team. He will be a three-year starter this spring in the outfield for the Eagles. "He was a crucial part of the team's success in 2012 with a Central Lakes Conference championship and Section Runner-Up," said Apollo Head Baseball Coach Adam Savolainen. "He has the rare combination of deadly speed, a strong arm and a wonderful passion for the game of baseball. Carlson's leadership and experience will be of great importance this upcoming season." Mayville Assistant Coach Pete Pratt said, "Ethan has been on my radar since his freshman season at Apollo and we look for a big senior year out of him. We fell in love with his athleticism and think he has a chance to develop into a fine outfielder for us. We know the drive to succeed is there with the weight gain and overall strength which is exactly what we wanted him to do when verbally committing to us. Ethan is a young man I have watched closely throughout his career and I'm hoping it will pave the way for many more student athletes from what I truly believe is a baseball hotbed in Central Minnesota." And Mayville Coach Scott Berry said, "Ethan was a recruit of Coach Pratt's home town in St Cloud and we are pleased to open a Central Minnesota connection." 
•••••••••••••••••••••••••••••••
Bryce Kirchner of St. Joseph, recently signed with St. Cloud State University to wrestle. He is a senior at Apollo High School. Kirchner began wrestling in ninth grade and by 10th grade he earned a trip to wrestle in the Minnesota state tournament. As a junior, he placed fifth in the  state AAA at 220 pounds. Currently, Kirchner is ranked fourth in the state at heavyweight with a record of 25-3. Bryce is a three-year all-conference selection and is a four-year letterman in both football and wrestling and carries a 3.5 grade-point average.