by Dennis Dalman
news@thenewsleaders.com
Former employees of the defunct Verso paper mill in Sartell are invited to bring their favorite mill stories, photos and other memorabilia to share with others from 4-6 p.m. Monday, Aug. 4 at the House of Pizza in Sartell.
At the meeting, several artists will listen to the former employees in order to get a better idea of the part the mill played in the lives of so many people, as well as the mill's long-time importance to Sartell.
Those artists are about to launch into a "repurposing" art project – using old gears, steel parts and pumps to create bike racks and benches for six city parks. Known as The Mill Project, the functional art works will be a form of memorialization of the mill, its workers and the man who died in a May 28, 2012 explosion that started a fire that caused the plant to be shut down permanently after being a Sartell icon for more than 100 years. Jon Maus of Albany died in the disaster.
For the past year, the massive plant – old and new sections – have been undergoing demolition by American Iron and Metal, a company that is selling almost all of the thousands of tons of materials to recycling firms. Some select scrap pieces, however, will be used in creating imaginative bike racks and benches for The Mill Project. The project's lead artist-director is Heidi Jeub, a graduate of Sartell High School who now lives and works in Little Falls. The project's fabrication director is Joe Schulte, Sartell industrial-arts teacher. Research and development for The Mill Project is made possible by a grant from the Central Minnesota Arts Board. Other partners for the project are the City of Sartell, Stearns History Museum, HBH Consultants, Todd Myra Photography and KVSC.
Jeub has enlisted the help of three other artists – one sculptor, two painters – to help with the project. The following are profiles of the new artists who just joined The Mill Project.
Fokken
Artist Kyle Fokken of Minneapolis is a mixed-media sculptor who combines unusual imagery into hybrid sculptures to explore the cultural contexts between generations of people.
Fokken said he has always been fascinated by "found objects," things that were cast off as junk by other people. That fascination began out of economic necessity.
"I was a fairly poor kid who would rescue other kids' discarded plastic model airplanes, cars and ships from the trash to rework them," Fokken said. "Since I could seldom afford to purchase new models to make, I would prolong my enjoyment of making dioramas showing the wear and tear on the vehicles like bullet holes, flak damage or damage from crash landings."
That process led Fokken to study historical photos. Those intense studies led to what Fokken calls his "Making Do" approach to art – using found objects as the fodder for his art.
"My ancestors had this (make-do) mindset of recycling and using everything to its fullest extent when they first moved to Minnesota in order to survive and prosper in the tough environment of the Upper Midwest."
That attitude informs Fokken's work in which he finds meaning, purpose or beauty in a castoff object, a meaning separate from the object's original purpose. That same kind of re-purposed aesthetic Fokken plans to bring to bear in helping fashion bike racks and benches from the Verso paper-plant castoffs.
Zlatic
Painter Christopher Zlatic, native to Sartell, grew up in Rice and attended school in Sartell through high school.
By the time he went to college, the Champion/Verso paper mill had become virtually etched in his mind as the defining visual landmark of Sartell, he noted.
Still living in Rice, Zlatic has a bachelor's degree from the Minneapolis College of Art and Design. He's actively involved in the area arts scene, including with Visual Arts Minnesota and the St. Cloud Art Crawl events.
Zlatic has been documenting the Verso demolition since its start in fall 2013.
"I did that for months over the coldest parts of last winter, almost weekly, to get as many pictures of the mill, hoping to preserve it for my own interests, but also to generate source imagery for incorporating into future paintings," Zlatic said. "The result is a near 360-degree portrait of the building."
Now, he added, he is eager to examine the many pieces from the demolition, sketch them and then create a new form of art that can serve as a monument to the monument that was the Verso mill.
Fay
Painter and sculptor Joshua Fay, who is about to graduate with a degree in painting from St. Cloud State University, has had many of his works exhibited at museums. In 2013, he helped connect St. Cloud businesses with local artists through the Sizzling Summer Art Crawl.
In realizing his visions for The Mill Project, Fay will work with custom motorcycle specialist Jacob Smith, who has a long experience in metal fabrication and welding.
"My paintings and sculptures," he said, "exist in the middle ground of metamodernism – art works that question the nature of artwork, of reality and of our perceptions."
Fay is a St. Cloud resident.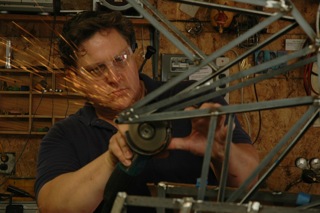 contributed photo
Artist-sculptor Kyle Fokken sands part of one of his metal sculptures-in-progess.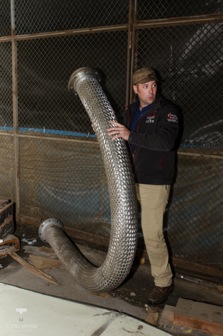 contributed photo
Joe Schulte, Sartell industrial arts teacher, holds a flexible pipe that might well become part of an art project.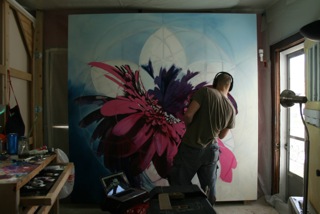 contributed photo
Christopher Zlatic, a former Sartell student, works on a large surrealist floral painting.
contributed photo
An industrial gear like this one is likely to become part of a bench or a bike rack for The Mill Project.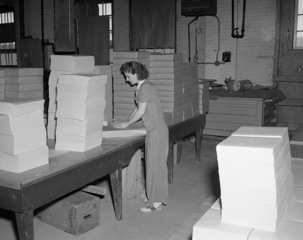 photo courtesy Stearns History Museum
An employee, perhaps in the 1950s, packs quality paper sheets at the Sartell paper mill.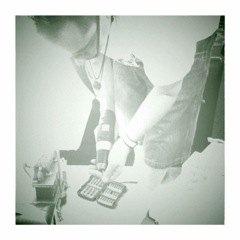 photo by Tina Jennissen
Joshua Fay installs art at Seven Elephants Coffee shop in St. Cloud.