This May 29, The Newsleaders is excited to honor all the high school graduates from Sartell-St. Stephen and St. Joseph (St. Joseph students are sent to eight different high schools.)
Show your support for the seniors with a special ad slot on these pages containing not only your business's information, but also a congratulatory message. This is a great way to highlight products and services for summer events like graduation parties.
Sartell-St. Stephen Graduation Special Section
Because Sartell-St. Stephen has its own school district, we publish a separate section featuring full-color photos and bios of each senior.
Show them your support by including your business advertisement with a congratulatory remark or highlight a product/service your company offers when each family is planning its graduation party.
There are several ad sizes available including the following:
Size Price Dimensions
Full page $609 10" wide x 14.75" tall
1/2 page $359 10" wide x 7.5" tall OR 5" wide x 14.75" tall
1/4 page $229 5" wide x 7.5" tall
1/8 page $149 5" wide x 3.75" tall
1/16 page $79 1.75" wide x 3.75" tall
All ads are in full color.
This ad will reach 17,000+ Sartell-St. Stephen Newsleader readers.


St. Joseph Grad Page
Because St. Joseph seniors attend nine different high schools (Apollo, Albany, Cathedral, Holdingford, ROCORI, St. John's Prep, St. Cloud Tech, Sauk Rapids-Rice and Sartell), we choose to list all graduates under their respective school name on a full-color, full-page ad.
Show them your support by becoming a sponsor. Sponsorship includes your business name in bold and in color, your company's address, phone number and website (up to 5 lines of text) for $79.
This ad will reach 7,000+ St. Joseph Newsleader readers.
A simple ad to feature your business. All businesses are listed with the business name and contact information for only $79.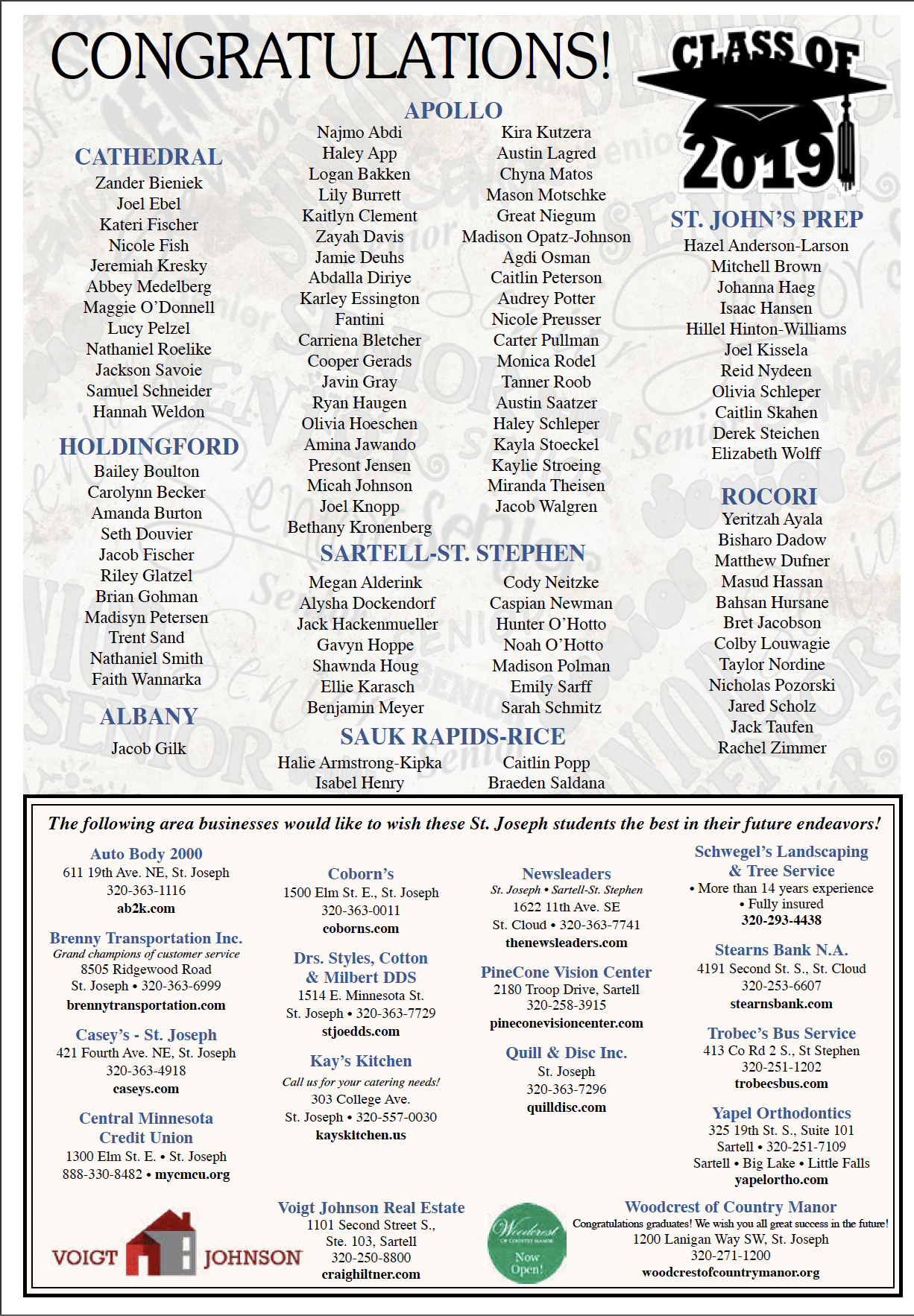 Why Advertise With
The Newsleaders
There's no better value for your advertising dollar than The Newsleaders! They are the only local newspapers that reach more than 20,000 people every other each week, with 82% of our readers reading the papers from cover to cover!* That means 4 out of 5 people are going to see your ad each time you advertise with us! No need to do the math on this one, we did it for you! The bottom line is, it costs you pennies per person for your ad. There's no other print solution with value like that!