by Cori Hilsgen
news@thenewsleaders.com
Jim Kuebelbeck doesn't usually like to be the center of attention, but this year on July 4 he will be. Kuebelbeck has been selected to be the grand marshal for the annual July 4 parade.
His wife, Carol, said she isn't sure if she or their grandchildren will be riding with him in the parade.
Kuebelbeck was chosen by St. Joseph Lions Club President Keith Schleper, who nominated him because he has been a dedicated Lions Club member, helping with many fundraisers and other events throughout the past 50 years.
Kuebelbeck is the only charter member of the St. Joseph Lions Club still active with the organization. He signed up the first year the club was founded and is still a member today.
The Lions was chartered in March 1964 when a group of citizens organized the  club, hoping to improve the quality of life in St. Joseph. Club members celebrated their 50th anniversary in May.
In the 1960s, the annual July 4 parade had become very small. Lions charter members Kuebelbeck, Ray Krebsbach and Leo Sadlo approached the club to try to make the parade an event people would want to attend. Their request did not receive an enthusiastic response because the club lacked the funds needed to attract marching bands, floats and more.
Kuebelbeck's father mentioned to him the St. Joseph Boosters Club had tried a similar effort, but the club had become inactive. He thought, however, that there might still be some funds from that club in the bank.
After meeting with then bank president Claude Crever, Kuebelbeck and others learned there were some funds in a dead account. Crever was receptive to transferring those funds to the newly formed Lion's Club if the inactive members of the Boosters Club would hold a meeting to officially disband the organization and approve the transfer of funds.
Kuebelbeck sent letters to all members of the inactive Boosters Club, asking them to meet one more time to officially consider the proposal. The group met, endorsed the transfer of funds and expressed the hope the parade would become an event that would draw thousands to the annual parish festival. The funds were transferred to the St. Joseph Lion's Club and were used as start-up money for what is now a yearly tradition.
The Kuebelbecks spent many hours and years making telephone calls, meeting with people and gaining participation for the parade, long before email was available. From a few units, the parade has grown annually to more than 100 units.
Throughout the years, Kuebelbeck has helped with many of the club's projects. He said he is less involved now, as younger members have joined.
"We have a lot of good, young members now who are involved," Kuebelbeck said.
Kuebelbeck grew up on a dairy farm that occupied part of what is now Pleasant Acres. His father bottled, sold and delivered milk locally. After the state required milk to be pasteurized, he sold the milk to a local dairy that pasteurized it, then bought it back and distributed it, owning and operating Kuebelbeck Dairy for 38 years.
Kuebelbeck attended St. John's Prep High School. He served four years in the U.S. Navy as an aviation electronics technician, assigned to a helicopter antisubmarine squadron based aboard the aircraft carrier USS Valley Forge. His experiences took him into the Atlantic and Mediterranean areas, some other international waters and more.
After the navy, Kuebelbeck worked for RCA service company out of Camden, N.J. in electronics. He later accepted a job with an international investigation organization. As an investigator he traveled extensively.
During a visit home to St. Joseph, he met Carol Schafer, a College of St. Benedict student from Renville.
Jim and Carol married and have six daughters and 24 grandchildren – 12 boys and 12 girls, with another expected in July. Their children Amy (Mark), Karen (Tracy), Jane (Brian), Paula, Stacy (Bob) and Molly (Tim) all reside around the Twin Cities area.
The Kuebelbecks purchased Kuebelbeck Dairy from Jim's father when he retired and owned and operated it for 41 years. They delivered to schools, restaurants and other businesses in the St. Joseph, St. Cloud and surrounding areas.
The Kuebelbecks are both also well known throughout the country for their skills in locating underground water by dowsing, which they have done for more than 40 years, often having the ability to locate water when others couldn't. One place they are very proud of helping locate water is at the Crazy Horse Memorial in South Dakota. Kuebelbeck said because sculptor Korczak Ziolkowski's family wishes to continue to build a dream memorial without federal funds, using only private donations, they have his and Carol's greatest respect and admiration. Helping locate a water source for the Ziolkowski family helped them stay independent and did not require hook-up to a municipal water supply.
The Kuebelbecks celebrated their 50th anniversary last year with most of their family in South Dakota. They were told they are now a part of the Crazy Horse history.
"The hospitality we were shown by Korczak's wife Ruth, Rollie (Noem) and everyone in the Ziolkowski family while working at Crazy Horse will forever be remembered and appreciated," Kuebelbeck said. "To be able to say Carol and I made even a small contribution to this great undertaking is an honor in itself and we will forever be grateful for the opportunity."
Kuebelbeck has both a commercial and private pilot's license, and Carol too is a licensed private pilot. They are members of the St. Joseph Catholic Church, Jim being a lifetime member. Kuebelbeck also writes monthly articles for an international well-drilling magazine, World Wide Drilling Resource, enjoys making things for his grandchildren, inventing things, hunting, fishing and more.
When speaking about honors and achievements, Kuebelbeck said he is most proud of his family.
"I guess I am especially thankful our six daughters have grown up to become decent human beings and great parents," Kuebelbeck said. "I'll have to give a lot of that credit to my wife, Carol."
The Kuebelbecks' many experiences have been useful during their years of involvement with the Lions, as they contributed hours of service. They are especially proud of their hard work with building the parade to the number of units it now annually boasts.
Current parade co-chairperson Joanne Bechtold said entries are about normal this year. She estimates there will be at least 100 units.
Bechtold and husband Joe, along with Ken and Mary Stommes, have been parade co-chairs for six years. They usually send out the parade line-up schedule one week prior to the event. Categories include Best Dressed Business, Classy Vehicles, Fourth of July theme and more.
The club's contributions are numerous, which include the many International Lions service projects, such as recycling old eye glasses, hearing aids and cell phones, as well as many local projects.
Fran Court has been a Lions member since 1978. He has reviewed records and continues to document donations the club has given to the area the past 50 years, an amount totaling at least $951,864.
Court gave examples of some local donations, which include $86,000 for local families in need, more than $84,000 for Millstream Park, $72,000 for the township park, more than $56,000 for street beautification, $53,000 to area churches, more than $37,000 for local youth activities, more than $33,000 for Memorial Park, $33,000 for city Christmas tree lighting, $33,000 to the fire department, $25,000 for street signs, $18,000 for Klinefelter Park, $15,500 to Kennedy Community School, $11,000 to All Saints Academy School and more.
Court said it's impossible to put a price on the hundreds and hundreds of hours members have donated to area service.
"Our motto is 'we serve' and I think we do a pretty good job in the community," Court said.
Kuebelbeck said he is honored and proud to have been chosen as the grand marshal.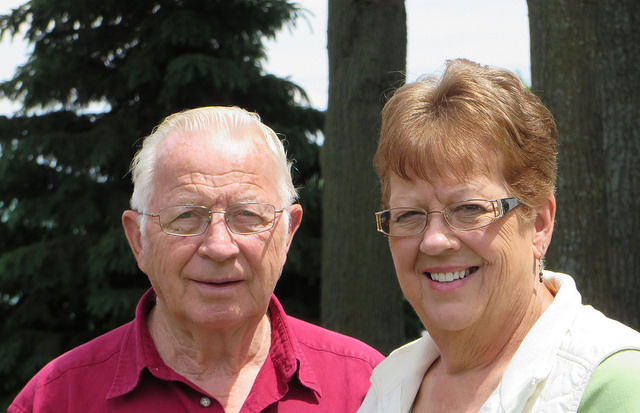 photo by Cori Hilsgen
Jim and Carol Kuebelbeck were instrumental in helping build the annual July 4 parade to the number of units it is today. Jim is a charter St. Joseph Lions Club member who was chosen as this year's grand marshal because of his many years of service to the area.