Reach Your Valentine's Day Audience
Valentine's Day will soon be here and with it comes all the Valentine's Day customers! Your customers have a choice of which businesses they'll go to, and we want to help you get your message to them!
The Newsleaders' Valentine's Day Promo Is Here!
It's time once again for the Newsleaders' Valentine's Day promo, and you're invited to take part! When you participate, your business receives a 3 inch by 3 inch color ad in both the St. Joseph and Sartell-St. Stephen Newsleaders, published Feb. 8, 2019.
The Contest
The Newsleaders is running a fun Valentine's Day reader contest in February. We will publish a full-color, full-page spread of participating advertisers with a number on each ad. Readers must match each business with its Love Song (a list is provided) and place the name of the business (which means they'll look several times at each ad) in the corresponding blank.
For example: Kiss from a Rose by Seal would be on the list. The ad would be for a florist, for example. Readers would need to write the name of the florist in the corresponding blank. Readers will submit their entries for a chance to win a Valentine gift basket for two.
Your business will be featured in a 3"x3" space. You may run an offer, if you are trying to promote something during this timeframe, or we can put something together with your logo, address, phone number and website if you don't' have anything specific in mind.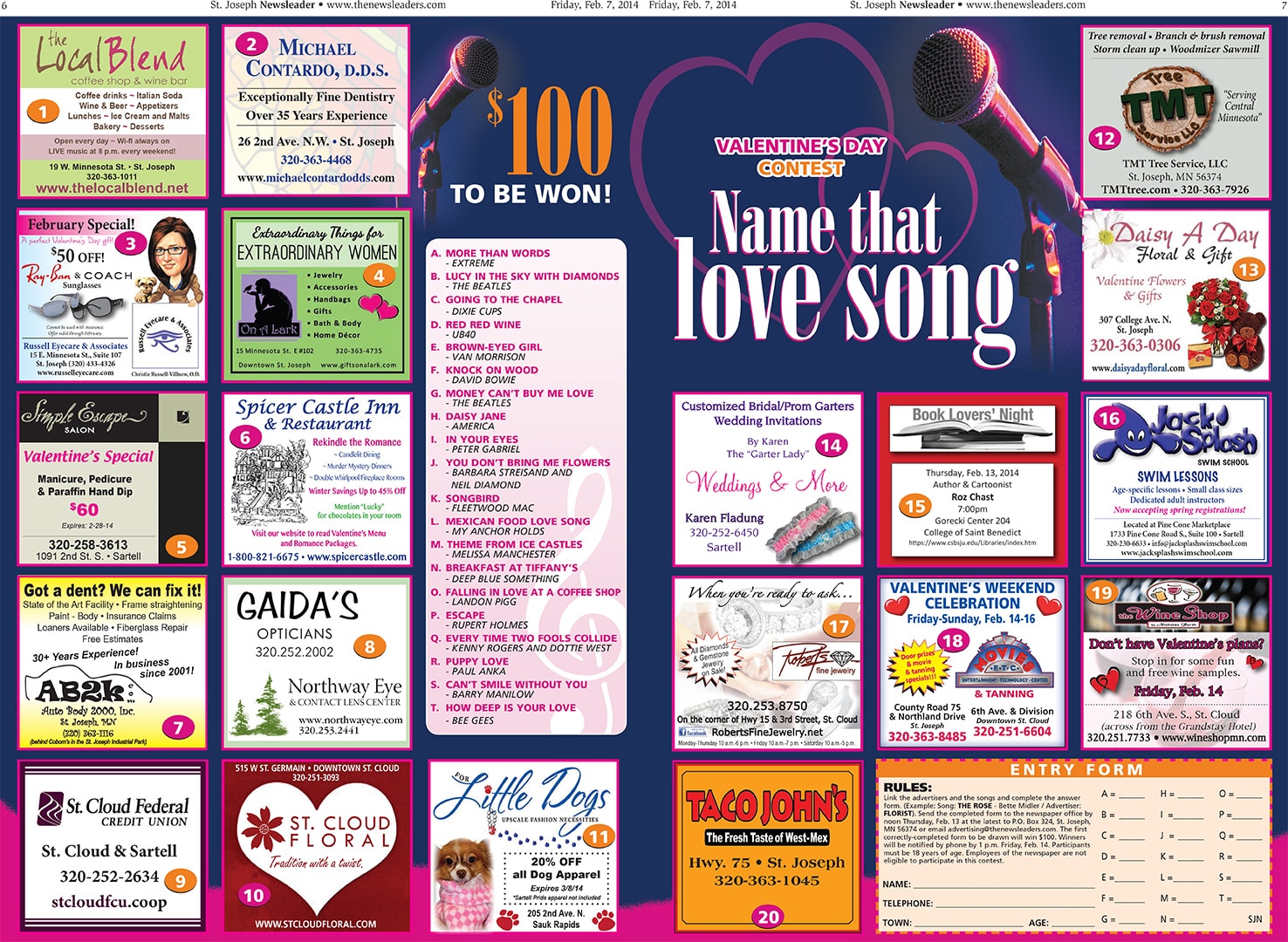 Pricing
Your 2 inch by 2 inch full-color ad in both editions of the Newsleaders is only $199. If you order by Jan. 23, you will also receive our Early Bird Special, and get 10% off. This is a great way to reach more people, as well as a way for you to use other marketing techniques.
Why Advertise With The Newsleaders
There's no better value for your advertising dollar than The Newsleaders! It's the only local newspaper that reaches over 24,000 people each week, with 80% of our readers reading the paper from cover to cover!* That means 4 out of 5 people are going to see your ad each time you advertise with us! No need to do the math on this one, we did for you! The bottom line is that with our Valentine's Day promotion, it costs you less than a penny per person for your ad. There's no other print solution with value like that!
To get started, call us at 320-363-7741 or fill out the form below.
[contact-form-7 id="127417″ title="Valentines Promo"]
*According to the latest CVC audit of The Newsleaders. For more details, contact The Newsleaders office.