For years, our business customers have been providing us with information on their companies asking us to write articles on them. It's always been a dicey proposition for us, because of our ethical standards and making sure it didn't appear we were writing favorable articles about a business in return for ads, as well as making sure we were fair to all our customers, some who are in competition with each other.
Feature your business on its own page
Today, we are excited to announce our new Local Business Spotlight section. This section consists only of articles about local businesses and a half page ad for that business on the same page, all for $999. Your company will get a full page dedicated to it. Each issue, we will publish a these articles as a special section of The Newsleaders, featuring four businesses over four pages in full color. The article for your business will also be posted on our website, so you can share the link and use it in your promotions.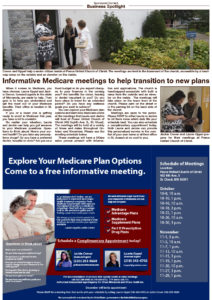 For $999, your company gets a custom-written article of 500-700 words, covering the topics you want talked about, as well as a photo, and on the bottom of the page a half-page ad for your business. Your company gets an entire page devoted to them. If you want to provide the text, we can also work with that, or Patric will come to your business, email you, and write the article for your approval, as well as take any photos needed.
A normal full-page ad in The Newsleaders would cost you more than $2400. Because of the special and unique content of this section, we can only allow businesses to buy a slot in this section once every twelve months. This is a great way to call attention a special event your company is having.
Don't delay! Our inaugural edition of the Local Business Spotlight runs this October! Call 320-363-7741 or fill out the form below to have us call you today!
[contact-form-7 id="136856″ title="Business Spotlight Form"]