Trobec's 86th Chicken Fry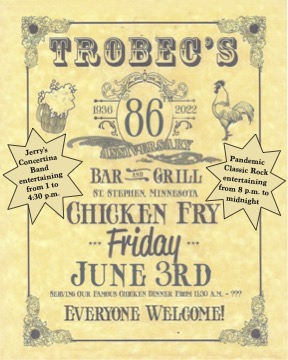 Join Trobec's Bar and Grill as they celebrate their 86 Anniversary. Chicken Fry, Friday June 3. Serving their famous chick dinner starting at 11:30 a.m.
Jerry's Concertina Band entertaining from 1-4:30 p.m.
Pandemic Classic Rock entertaining from 8 p.m.-midnight.
Trobec's Bar and Grill, 1 County Rd 2 S., St. Stephen.