Album Release Preview: Neon Lighting by Pamela McNeill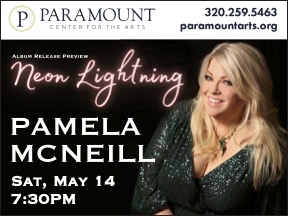 Zone 1:$22
Zone 2: $20
Plus $3/ticket processing fee.
A Minnesota native, Pamela McNeill has built a loyal fan base in the Twin Cities and Central Minnesota as a member of The Fabulous Armadillos, "Rumours and Dreams – A Fleetwood Mac Tribute," "RRXS – Rock and Roll Christmas Spectacular," "Wild Angels – The Women of Rock, Pop & Country" and the "Pamela McNeill Band."
Her seventh solo recording, to be released on Farm to Label Records, finds her going back to her songwriting roots on piano. This official record release concert will feature a full band made up of some of the Midwest's finest talent. Expect her signature writing on new songs, laced with traces of her piano heroes: Elton John, Rickie Lee Jones, Billy Joel and Carole King. And of course she'll be performing fan favorites such as "Mississippi River Song" as well!