by Dennis Dalman
news@thenewsleaders.com
There are 300 duathletes registered so far for the 31st annual Sartell Apple Duathlon, which will take place starting at 8:30 a.m. Saturday, May 24 at Sartell Middle School.
The Kids Apple Duathlon will take place the day before. (See related story.)
Adam Konczewski, Apple Duathlon co-director, updated the city council about the race at its May 12 meeting. So far, 300 duathletes are registered, most of them from out of state, including many Canadians. Last year, he noted, there were 100 Minnesotans who participated in the event out of the 400 adults who competed; 200 children took part in the Kids Apple Duathlon.
Konczewski thanked and praised the Sartell Police Department and the Sartell Public Works Department for their cooperation in the planning for closure of part of Pinecone Road during the race. From 8:30-10:30 a.m., Pinecone will be closed to vehicles between 15th Street N. and 40th Street N.
Konczewski also said more volunteers are always welcome.
"They say it takes a village to raise a child," he told the council. "It takes a community to run a race."
People who want to volunteer for either the adult or kids Apple Duathlon can sign up on the following website: www.appleduathlon.com.
The Sartell Apple Duathlon, which is known internationally, has been a world-qualifier in many of its years, attracting competitors from far and wide. The race involves a 5k run, a 33k bike course and a 5k run.
This year, the top cash prize of $400 will be awarded to the overall winners, the top female and top male. Other cash prizes will be awarded in other categories.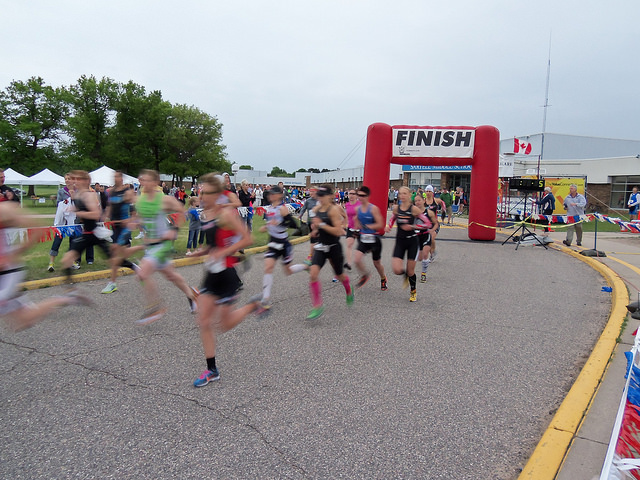 photo by Dennis Dalman
Runners in the "Elite" category set out at 8:30 a.m. Saturday at the 30th annual Sartell Apple Duathlon. Midway through the race rain began to pour, and most duathletes crossed the finish line sopping wet.