June 23, 1989
Bed and breakfast: a memorable human experience for both Lambs and weary travelers
by Stuart Goldschen
If you've seen one motel, you've seen them all. But not every accommodation for the weary traveler is alike.
Take a bed and breakfast establishment, for example. It touches your mind, your heart and your soul as well as your rubbery limbs and empty stomach. It's a memorable human experience instead of a fleeting flop in the night.
Patricia and Karl Lamb of St. Joseph like to tell it this way about their bed and breakfast on Island Lake, just south of County Road 51, three miles west of town.
"Our bed and breakfast sits on a country lane," Karl said, "in a quiet setting where country life strips away human armor – a haven intended for a serene and peaceful getaway."
It's not the Holiday Inn, as some expect, but some bed and breakfasts "have gotten out of hand," Karl said, offering "the ultimate experience" – with hot tubs, whirlpools and bedroom fireplaces.
"That's not the object of a (traditional) bed and breakfast," he said. And certainly not the character of the Lambs' bed and breakfast, the only one in the greater St. Cloud area.
The Lambs invite their guests to "the gathering room around the fireplace, on the decks or in the wicker-filled sun room, for a convivial glass of wine, light repast and lots of friendly conversation.
The key ingredient, as the Lambs see it, is the friendly conversation. While proud of their neatly-crafted reproduction of an 18th-century saltbox colonial house full of early period antiques, they stress the personal, over the material, touch.
"Some bed and breakfasts are not much different than a hotel," Pat said. "They are more like a business and not very personal. We enjoy people and like to make them feel at home here."
The Lambs themselves are very much at home in their own house and don't like to stay away too long. They recently returned from a four-day trip along the Mississippi River to Prairie du Chien, Wis., enjoying the rural countryside and visiting several other bed and breakfasts.
"We enjoyed our trip, but we're really happy to get home," Karl said. "We stayed at several bed and breakfasts and picked up some tips, but we like what we do and think we do a pretty good job in comparison."
Few, if any, of the more than 100 guests who have stayed at the Lambs' since it opened more than a year ago would disagree. They have come from all corners of the country, have returned several times and have recommended the home to family and friends.
"Just last night there was a couple (Barb and Ted Loiselle) here from Eden Prairie who were celebrating their 10th anniversary," Pat said. "Her sister and husband had stayed here and recommended it to them. It was their (the Loiselles') first time in the area since they graduated from St. John's University and the College of St. Benedict in 1976."
Karl said most guests come for seasonal or special events at St. John's and St. Ben's, including graduations, sporting events, parents' weekend, musical festivals and campus tours.
They usually stay one or two nights, he said, "re-discovering the simple pleasures of listening to the loons, crickets or frogs, and watching the deer wander through the back woods."
The Lambs offer fishing equipment, a canoe and a sailboat for use on Island Lake, and guests can ski, hike, bicycle and walk in the surrounding picturesque countryside.
"We get more and more business through word of mouth," Pat said. "It's very nice – and a reflection that people are really enjoying it."
The pleasure is doubled, incidentally, by the relatively low cost. The Lambs charge $40 a night for two people in one room, and $60 for the room with a private bath.
"That's lower than most bed and breakfasts and a whole lot less than your average motel," Karl said. "And that includes breakfast."
The Lambs serve a continental breakfast of home-baked bread, hot rolls, muffins, fresh fruit and coffee.
The Lambs first experienced and enjoyed the concept of bed and breakfasts in the mid-1960s and early 1970s when Karl, 50, taught at American schools in Italy and Germany, respectively. He is currently teaching architectural drawing at St. Cloud Technical School, and Pat, 46, is a counselor in the chemical dependency program at St. Cloud Hospital.
The Lambs are natives of Walker, Minn. Their two children are Michelle, 26, of Los Angeles, who will marry Aug. 19 in a ceremony at the Island Lake house, and Patrick, 21, of St. Cloud.
Karl built his first house in 1969 in St. Cloud and began construction of the Island Lake home in 1987. Soon thereafter, the Lambs decided to turn their home into a bed and breakfast and opened for business in mid-1988.
The house is a stately, two-story, central-air-conditioned model of craftsmanship and care. It features two guest rooms with large four-poster beds and colorful Amish quilts. There are wide-plank maple and brick floors and an array of colonial-style furniture made by Karl, oriental rugs and an extensive collection of baskets, cast-iron cookware and antique tools.
A glass-enclosed sun room with white wicker furniture and two exterior lounging decks frame the house on three sides. They lead the eye outdoors to the Lambs' 30-acre property of thick ground ferns and a forest of broad, 100-foot oak, maple and basswood trees.
The bed-and-breakfast concept originated in Europe and has flourished there throughout the centuries. It has been growing in America, but is still a relatively unknown phenomenon in many states, including Minnesota.
With some 90 bed and breakfasts, Minnesota ranks "the farthest behind," Karl said, while Wisconsin, Michigan and states on the east coast lead the field.
"Even Iowa has 94 bed and breakfasts," he said.
The Lambs stand out, then, but enjoy the exposure. They say they are doing well and plan to expand the house to accommodate more guests.
People, not money, however, is their primary concern. They want very much to preserve a tradition that warms the heart as well as the feet.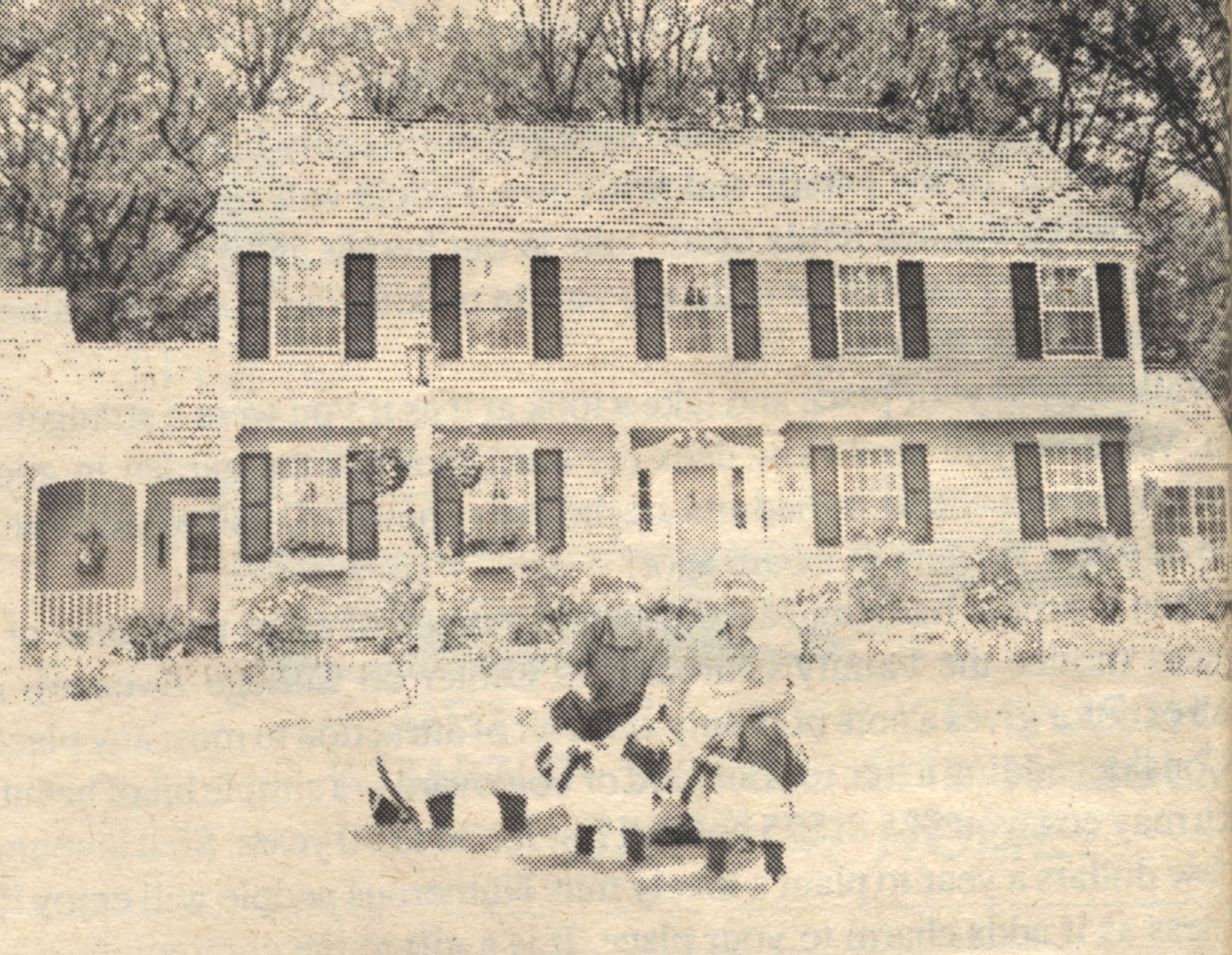 photo by Stuart Goldschen
Patricia and Karl Lamb host weary travelers at their 18th-century replica colonial bed and breakfast three miles west of St. Joseph on County Road 51. It is the only bed and breakfast in the greater St. Cloud area.