Sept. 1, 1989
Kennedy Elementary shows off 'new school'

by Stuart Goldschen
news@thenewsleaders.com
Parents and children attending Kennedy Elementary School's annual open house yesterday (Aug. 31, 1989) enjoyed more than cookies and punch, and cordial conversation.
They marveled at the sight and smell of a practically new facility.
The finishing touches of a major Kennedy renovation, begun last June, were completed just before the open house. Teachers are now settling into their new classrooms and preparing for the first day of school Sept. 5.
Enrollment at Kennedy this year is expected to increase from 394 to 419 students.
"It's terrific," said Kennedy Principal Jerome Hayenga about the renovation. "The PTA, parents and teachers – everyone agrees. We didn't believe it would be this nice. Now we think we have a new school."
The $480,000 remodeling project was part of a $25-million school-bond referendum passed last spring for five District 742 schools. The work at Kennedy was done primarily by W.H. Gohman Construction Co. of St. Joseph.
Hayenga said the project was well conceived for the needs of his school and a model for future remodeling in the district. He said John Wall, the district's construction manager, recommended such an approach for other schools.
A major portion of the school, originally built in 1967, was affected by the remodeling. Classrooms comprising the eastern two-thirds of the school were completely gutted and restructured with new ceilings, carpets, windows, doors and cabinets. There is a new air-exchange system, better insulation and nine new single and double fire doors.
"They just wiped out the interior and left only the roof and the walls," Hayenga said. "It's all brand new." He called the project a "wise investment" and said "the taxpayers really got their money's worth."
Hayenga said one additional classroom was created by the renovation. He said there is now a window in every classroom and a number of 4-foot-wide modular partitions to divide larger areas into separate rooms.
A new faculty and staff parking lot with 66 spaces also was constructed in front of the school on College Avenue. Hayenga said the lot will eliminate the need to park in playground zones on the south side of the school and will also accommodate students, faculty and staff at the College of St. Benedict across the street.
"The people of St. Joseph have wanted this for a long time," Hayenga said of the entire project. "They weren't satisfied since the 1974 addition." He said previous work left too much open space, creating noise and acoustics problems.
"Everyone who comes in is delighted with what they see," Hayenga said. "The people who saw it a year ago won't believe what has transpired in three months."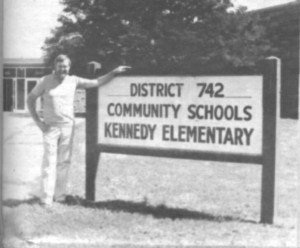 photo by Stuart Goldschen
Kennedy Principal Jerome Hayenga invites the public to visit the newly remodeled school facilities.