by Heidi L. Everett
editor@thenewsleaders.com
This spring, the people of St. Joseph will be able to park it in a whimsical community parklet on Minnesota Street.
What is a parklet, you might ask? A small seating area or green space created as a public amenity on or alongside a sidewalk in a parking space.
"Parklets are part of a bigger, broader global movement looking at how streets and sidewalks can be used by all different types of users in a safe manner," said Matt Lindstrom of St. Joseph. He teaches urban planning at the College of St. Benedict and St. John's University. Lindstrom also is the director of the McCarthy Center for Public Policy and Civic Engagement at SJU.
In spring 2020, Lindstrom had students complete small group projects with a focus on St. Joseph.
"They had to research and propose very specific, tactical, tangible and implementable projects," he said. "It's one thing to have an idea and another thing to be able to do it."
Then, a panel of community judges from the region was brought in to hear proposals and provide feedback.
A common element of several proposals was to create a parklet in St. Joseph.
"Parklets can take many different forms," Lindstrom said. "From a very simple approach, you could take four traffic cones, a piece of indoor/outdoor carpeting, a lawn chair and call it a day."
The parklet for St. Joseph will be a 20-foot-x-8-foot platform and will be centered in two parking spots in front of the Local Blend on Minnesota Street extending off the curb.
CSB/SJU students David-Earl Russell, of Los Angeles; Crystal Diaz, of Chicago, and Julia Clark, of Kimball, brainstormed with Lindstrom a list of ideas to incorporate into the parklet, including "really emphasizing local talent, local materials and local creativity," Lindstrom said.
For the local talent, they turned to St. Joseph resident Tom Kuhn, a long-time theater set designer for Sartell School District and GREAT Theatre productions.
Kuhn had never heard of a parklet when approached about the project.
"The first thing I did was get on the internet and do some researching," he said. "Man is there a range out there from a couple of benches to things that have wind power, solar power, games, trees and plants and all kinds of things. It's wide open with what you want to design."
He started with "the list" the students and Lindstrom had created.
"We had a working list that we wanted the parklet to represent… community, fun, to encourage health and wellness, interactivity .. a lot of these big ideas floating around," he said. "Then, we had to narrow it down. What does it look like in an 8-foot–20-foot space?"
For Kuhn, "Representing community was the anchor," he said.
"We wanted to have a little bit of a nod to our community, so the colleges are represented by a honeycomb and hexagon idea you find at the St. John's church," Kuhn said.
Because faith is an important part of the community, part of the parklet seating is a recycled church pew.
The team also wanted a comfortable place for people to sit that was flexible, so multiple seating configurations that can be moved will be used. A pergola will provide shade, a vine wall will provide privacy and visual interest. Solar powered lights will create evening ambiance.
Lindstrom added, "We wanted to create a little bit of playfulness for kids of all ages too."
To that end, pops of color, flower boxes and other little surprises are built into the parklet.
"There's so many surprises, you'll have to wait to see it," Kuhn said.
Additional reclaimed and recycled materials will contribute to the sense of fun.
"A vintage Schwinn bicycle will be stationary and connected to a generator and a light bulb," Kuhn said. "The faster you pedal, the brighter the bulb will get."
The church pew and bicycle are among other recycled materials used, including decking from Wisconsin and old fence pieces. Kuhn spent a good deal of time on Facebook Marketplace hunting down materials to use and traveling to Cambridge and other cities to collect them.
"Everything is repurposed except for the platform, nuts and bolts," Kuhn said.
"He's really leaning into the sustainability of it," Lindstrom said.
The design evolved as Kuhn found things. He created scaled models with hot glue and cardboard for a frame of reference and followed "basic golden-rule principles" of design for composition and balance.
"The challenge was how much can we pack into one spot before it becomes too much," he said. "We've struck a nice balance."
All components of the parklet – the platform, the pergola, the seating, the whimsical features – were created as individual pieces and layers to be assembled in place and disassembled for winter storage or a move to a new location.
The parklet project is a collaboration between the College of St. Benedict and St. John's University, McCarthy Center for Public Policy and Civic Engagement and the Stearns County Department of Public Health, which awarded the project a SHIP Grant (State Health Improvement Program) to encourage vibrant communities and active living. The grant, along with private donations and volunteer labor, is helping to make the project a reality.
The City of St. Joseph administration and council also have been supportive.
"I'm excited about the potential the parklet has in helping bring people together and providing a safe central area for folks to relax, connect and enjoy downtown," said Nate Keller, community development director. "With the pandemic we've learned we have to be flexible in how we encourage more people downtown while being safe. Parklets have historically seen tremendous success in a range of small to large downtown areas."
The team hopes to install the parklet by the end of April.
"This space is more than just a place to sit," Lindstrom said. "It's low cost, high impact. Something different to provide people another opportunity to get to know their neighbors and chill out in downtown St. Joseph."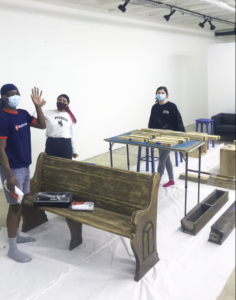 contributed photo
CSB/SJU students prepare to paint a reclaimed pew for the St. Joseph parklet being installed in April. (Left to right)
David-Earl Russell of Los Angeles; Crystal Diaz of Chicago; and Julia Clark of Kimball.