by Dennis Dalman
Doug and Janet Hince of Sartell received the best holiday present they could have dreamed of when their daughter, Anna, graduated from college Dec. 18 and then landed a teaching job just a few days later.
Anna Hince, 22, is now, happily, a special-education teacher at Avon Elementary School, working with 10 children in first through fifth grades.
After a lifetime of struggle, Anna had succeeded – big-time. Twenty-two years ago she was born deaf, or so her parents came to believe.
"She wouldn't respond to sounds," recalled her mother. "We consulted with a doctor, but we learned he had misdiagnosed the problem."
Meantime, the Hinces prayed and eventually learned from another diagnosis, when Anna was 18 months old, that when she was a baby an ear infection had almost literally "plastered" shut her inner ears, making hearing virtually impossible. At about 2 years old, Anna received ear tubes that gradually remedied her hearing loss.
Even though Anna's hearing improved, she was behind in development and diagnosed with autism. When they learned of their daughter's diagnosis, they were told Anna would likely never be able to live outside of a group home.
"We both said 'No way. No way! We are not accepting that!','' Janet recalled.
And the Hinces began to pray even harder.
They weren't kidding; they didn't accept it. Quite the contrary. Thanks to teachers and to their faith, they forged ahead with brimming confidence.
Because of her inter-related disabilities, Anna had to begin pre-school at Royalton when she was 2-1/2 years old.
At Royalton Elementary School, Anna endured a difficult time learning how to talk, but she excelled at the task, thanks to Nancy Ketter, a dedicated speech teacher.
"Nancy was an amazing woman who started Anna's success," Janet said. "Another amazing woman was her pre-school teacher, Kay Holms."
The Hinces moved from Royalton to Sartell when Anna began kindergarten. At Sartell's Pine Meadow Elementary School, they began a series of constant communications with Anna's special-education teacher, Midge Nyblom.
"Midge was a huge help in our daughter's growth," Janet recalled. "She worked with Anna and all of her teachers. She set up a network among the teachers and us, the parents, and not once did Midge or those teachers discourage Anna in any way. Thanks to all of them, we established a great support system."
At that time, Janet had been a family advocate for the Head Start program, which was another huge help, as she knew which resources were available.
"Anna was still way behind, but she kept improving every year," Janet said.
Eventually, Anna entered high school, and teacher Megan Klose became vital. She encouraged Anna with constant nudges of "Yes, you can do it. You can do it, yes you can."
During her interview, Janet kept emphasizing how she has been amazed by school district employees.
"What they did so well is to teach Anna – to teach every student – to be their own advocates," Janet said. "If Anna had a concern or problem, they let her know she could go to any teacher and never be afraid to ask a question."
That sense of empowerment followed Anna right into her years at St. Cloud State University where she majored in special-education teaching and worked her way through college as a restaurant server in St. Cloud.
Her hard-won confidence, intelligence and discipline earned her a 3.8 grade-point average and debt-free graduation. It also helped land a job as a special-education teacher.
"We are so proud of her," Janet said. "All of her years, Anna had to work so hard on everything. She is proof any child can become who they want to become. She was severely behind, but she caught up."
Anna lives with her parents for the time being.
"I love teaching, and I like to hang with family," she told the Newsleaders. She said she enjoys traveling and scrapbooking with her mom too.
Anna plans to get her master's degree eventually.
Janet constantly emphasizes her message to other parents:
"Never ever give up on a child!" she said. "Our prayers were answered."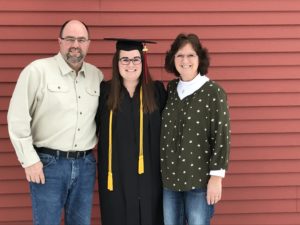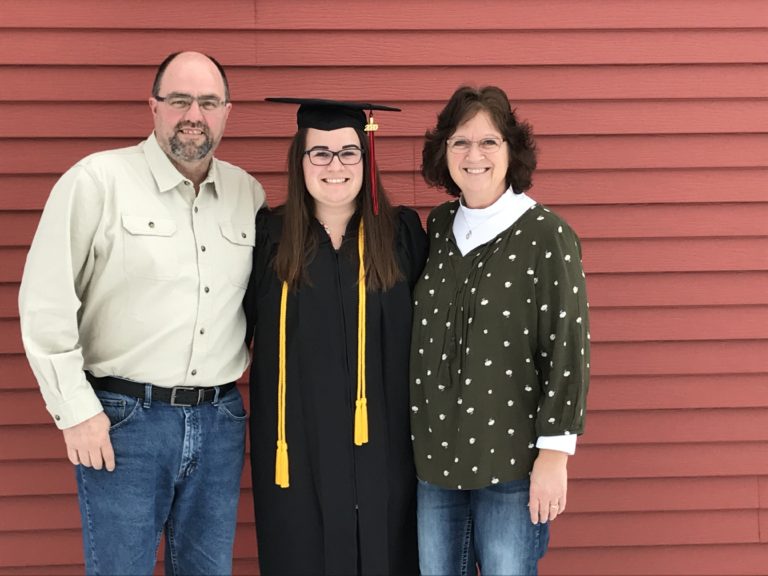 contributed photo
After graduation from college Dec. 18, Anna Hince paused outside her home for a photo with her parents, Doug and Janet Hince.