Two Sartell students were recently invited into the Theta of Minnesota Chapter of Phi Beta Kappa at College of St. Benedict and St. John's University.
They are the following: Jessica Alkire, daughter of Mary and Doug Alkire, who is a senior English major at CSB; and Austin Barkley, son of Julie and Jim Barkley, a senior Hispanic studies major at SJU. These students are two of 68 students from CSB and SJU to receive an invitation into the chapter. The students were formally inducted into the chapter during a ceremony April 22 in Alumnae Hall, CSB.
Phi Beta Kappa, the nation's oldest academic honor society, was founded in 1776. The basic criteria for selection are a grade-point average of 3.65 for seniors and a liberal arts major. The selection committee also looked at the breadth and depth of the student's program and other achievements, such as a thesis or other research.
•••••••••••••••••••••••••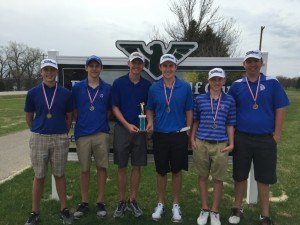 •••••••••••••••••••••••••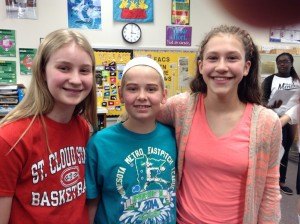 Sartell Middle School competes in Battle of the Books
Thirty nine teams competed recently in the Sartell Middle School Battle of the Books. The purpose of the competition is to encourage students to read and then compete in a trivia-style competition. Students in grades 5-8 are invited to participate.
Awards went to: fifth-graders Sonja Hackenmueller, Avanthi Wigetunga and Josh Nguyen, first place; Salma Maray and Kate Manning, second place; and Ashlyn Rogosheske, Morgan Claseman and Eva Hesse, third place; and six- through eighth-graders Nora Steil, Alice Colatrella and Julia Johnson, first place; Connor Hacker, Beau Garman and Mitchell Graheck, second place; and Gabrielle Schlagheck, Maren Arneson and Gillian Orth, third place.
The Battle of the Books is funded in part by the Sartell-St. Stephen Education Foundation.
•••••••••••••••••••
Lilly Xie, daughter of Ying Zhou and Kevin Xie of Sartell and a sophomore at St. John's Prep was recently named as a new member of the National Honor Society, Virgil Michel Chapter. The adviser for the St. John's Prep NHS is Martina Talic.
The NHS is the nation's premier organization established to recognize outstanding high school students. More than just an honor roll, NHS serves to honor those students who demonstrate excellence in the areas of scholarship, leadership, service and character.
•••••••••••••••••••••••••
Laurana Deuel, daughter of Estella and David Deuel of Sartell and a 2015 graduate of Sartell High School, has received an Air Force Reserve Officers' Training Corps scholarship to attend the University of Minnesota-Duluth. Scholarships are awarded on a merit system in areas such as academic achievement, extra curricular activities, physical fitness, specific performance or accomplishment, leadership abilities and personal interviews.
The scholarship entitlements include tuition and fees, an annual allowance of $600 for textbooks and a monthly stipend for up to 10 months of each school year for contracted cadets at the host college or university.
Upon graduation from the host college and completion of the ROTC program, the student cadet receives a bachelor's degree and a commission as a second lieutenant in the Air Force.  All ROTC students incur a military service obligation of four years (10 years for pilots), which is fulfilled by serving on active duty.