The Fabulous Armadillos will be the showcase band for the annual Sartell Area Chamber of Commerce Rock 'n' Block from 9 p.m. to midnight Saturday, Aug 9 at Pine Cone Marketplace and also for the concert to raise funds for the Sartell Youth Hockey Association at 8 p.m. Saturday, Sept. 13 in Bernick's Arena in Sartell.
The opening band will be 90 Proof.
Tickets for the hockey event are now on sale at Bernick's Arena, Westside Liquor (Sartell and Waite Park locations) and the Blue Line Sports Bar and Grill in Sartell. The show is for people 21 and older, and IDs will be checked at the door.
General-admission tickets are discounted but tickets will also be sold at the door the night of the show. People are requested to bring lawn chairs. People may opt for VIP seating, which includes a cash bar, free pizza and access to a private restroom.
The Fabulous Armadillos, with now eight members, was founded in 2006 and has since grown into iconic status in the greater St. Cloud area and elsewhere. They began as a "theme" band, performing shows of various themes at Pioneer On Fifth in St. Cloud – theme shows such as "One-Hit Wonder," "Woodstock," "Motown Hits" and "Singers-Songwriters." They have performed 35 different theme shows. Audiences marvel at how closely the band sounds to the original songs.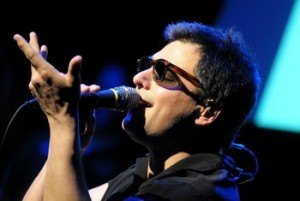 photo courtesy of Fabulous Armadillos website
One of the eight Fabulous Armadillos, Gabe Jacobs, performs one of the many songs in the group's theme show, "Totally 80s."