by Dennis Dalman
news@thenewsleaders.com
Don't be surprised if the works of Sartell artist Claire Miller someday grace the walls of major museums. At age 15, the Cathedral High School student's paintings have already garnered raves and awards.
Twenty-two awards, to be exact.
Miller's high-school art instructors are Tony Keller and Dan Nelson.
Recently, she placed third in the Sixth Congressional District's High School Art Contest. In addition, she is the first Minnesota high-school student to win Blick's International "Celebrating Art" contest. Two of her works (one of a cow, the other of a ballerina) were among the top 10 winners and photos in that contest, and they were published in the Celebrating Art book.
She also won honorable mentions in the Cleveland Art Institute's National High School Contest and in the Minnesota Junior Duck High School Art Contest.
Other awards include four honors, including Gold Key awards for painting and drawing in the Minnesota Scholastic Art and Writing Contest; five awards just recently in the Central Minnesota High School Art competitions (Granite Ride and Minnesota State High School League).
Miller's works have found places of honor on the walls of many area museums and venues – exhibitions in Little Falls, Elk River and, most recently, at The Rivers Art Exhibit at the Paramount Theater.
Miller, the daughter of Deb and Todd Miller of Sartell, just received a grant from the Central Minnesota Arts Board to work with acclaimed artist Yudong Shen to help prepare her portfolio for when she applies for college.
"He's amazing," Miller said of Shen. "He has a studio in Shoreview, and I'm taking lessons from him in oil painting, charcoal and pastels."
Another teacher is Harvey Schroeder of Elk River, now retired, who teaches oil painting on Wednesday nights. Miller paints in his studio in the winter months.
Miller began painting when she was in eighth grade.
"I've always liked art, ever since I was little," she said. "I remember the first painting I did was of a tree."
About half the time Miller paints directly from the life in front of her and about half the time using photos as starting points. She even painted a few outdoor photos while standing amidst the setting she was painting – a challenging way to paint and which artists call "plein air" painting. Painting right in the open air from nature was pioneered by French impressionist master Claude Monet, who is Miller's favorite artist.
"I just recently went to Chicago's Institute of Art and saw all the Monets they have there," she said, her voice filled with awe. "They were amazing paintings. And they had a lot of other great impressionist painters' works there too."
Before doing a painting, Miller usually first thinks of what she wants to achieve. Sometimes it's a certain color or color combination; sometimes it's a certain design or composition; sometimes it's a mood or emotional evocation.
"A lot of my paintings are very exact and very refined," she said. "Others are more impressionistic, looser, not photographic looking."
Miller defines her art as based on the visible world, representational rather than abstract. She's done many small paintings, as small as 5-inch x 7-inch, but more recently she likes the challenge of bigger canvases, up to 20-foot x 24-foot.
Miller has a twin sister, Elise, who sometimes dabbles in art but who wants to major in the field of medicine. Claire's post-graduation plans are just as definite as her sister's.
"I'll be going to an art college," she said.
And she will no doubt be winning more awards and places of honor on museum walls.
contributed photo
Claire Miller, a Sartell artist, has won an astonishing number of awards, honors and praise for her works.
contributed photo
Claire Miller excels in evoking pensive moods with her portraits.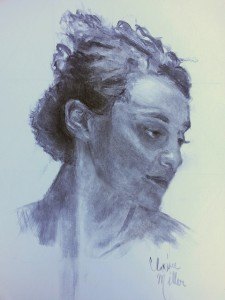 contributed photo
With deft, impressionistic paint strokes, Claire Miller is adept at creating portraits.
contributed photo
Claire Miller loves to explore textures and the interaction of colors in her paintings, as in this picture of a flower.