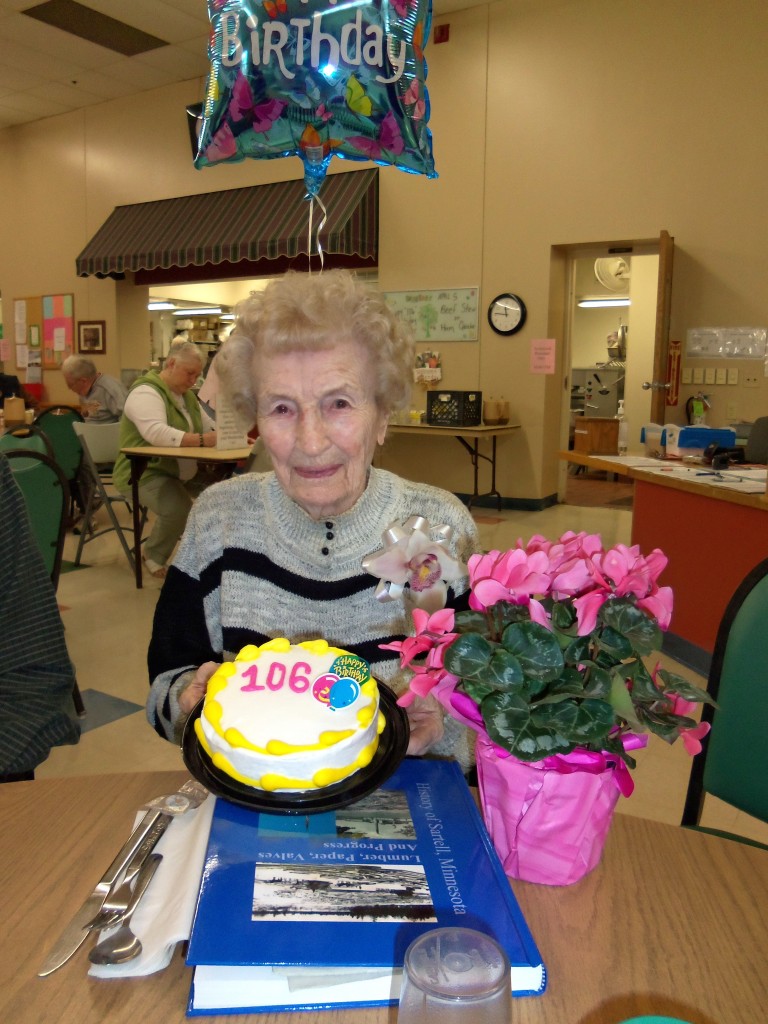 by Dennis Dalman
news@thenewsleaders.com
Among the many cards Ester Sharrow's received for her 106th birthday, one was from Sartell Mayor Joe Perske.
"You are a great inspiration to all of us in Sartell," Perske wrote. "Ester, you are one year older than the City of Sartell!"
Sharrow chuckled at the fact she is older than an old city.
Sharrow was born on a dairy farm in Luverne in 1906, one year before the incorporation of Sartell, the city she would later call her home.
In the year Sharrow was born, the following events occurred in the world:
• San Francisco was virtually destroyed by the "Great Earthquake of '06," which left at least 3,000 dead.
• The first Victrola record phonograph was manufactured.
• Finland was the first nation to introduce universal suffrage, and women were allowed to compete for public office.
• The first gas-powered airplane in Europe managed to rise from the ground and fly for about 200 feet in France.
• The world's first feature-length movie, "The Story of the Kelly Gang," was released, an action film based on a true story about a gang of Australian outlaws.
Sharrow was 6-years-old when the Titanic sank near Newfoundland 100 years ago, on April 15.
"I don't remember it," she said. "I was so young, but I remember people talking about it later."
On Thursday, April 12 at Whitney Senior Center, Sharrow enjoyed a birthday lunch with two relatives and well-wishers. The relatives were one of her nephews, Jack Hill, 79, and his wife, Tootie, who hail from Minocqua, Wis. Jack, who is the son of Sharrow's sister, Eleanor, is one of only six Sharrow relatives still living. Eleanor died at age 80.
Also at Sharrow's birthday luncheon was Sartell City Council member and former Whitney Senior Center Director Steve Hennes, who presented her with the birthday card from Mayor Perske and a book about Sartell's Centennial. Carolyn Garven, former St. Cloud City Council member, also came to extend her good wishes. The hostess for the luncheon was Jean Haley, coordinator for the Catholic Charities dining program at Whitney.
Haley introduced Sharrow and her guests to all the other diners in the Whitney cafeteria, and everyone burst into a loud round of applause.
"God's been good to me," Ester said.
When asked her secret to such a long life, Ester doesn't have a definite answer, but she does have some guesses. She didn't' smoke, although she has a drink now and then. She always loved to walk, to dance and to golf. And, last but not least, she always enjoyed living and kept a keen curiosity about everything in the world.
"Her living this long is just amazing is what it is," said her nephew, Jack. "She has lived such a full life."
Jack's wife agreed.
"She's the most incredible woman," Tootie said. "When she got up this morning, the first thing she said was, 'I wish I still had my high heels.' We all had to laugh about that, including Ester."
Several friends have razzed Sharrow about her high heels, which she recently gave away, fearing at the age of 106 she might become a bit wobbly in them.
"From now on, I'm sticking to my one-inch heels," she said. "But I do miss those high heels."
Sharrow has always been a chic dresser. Many decades ago, she worked in the clothing department of Dayton's in St. Paul and also worked as a clothing model. Her family and friends always remarked about what a sharp, impeccable dresser she was.
After graduating from high school in Luverne, Sharrow one of 10 siblings – moved to Sioux Falls, S.D. and worked in a drug store. Later, she landed the Dayton's job in St. Paul. She was married at age 21 in the Twin Cities, a marriage that lasted 20 years and ended in divorce. Then she met and married the true love of her life, a man named Bob Sharrow. They stayed happily married for 53 years. Bob had a traveling job for an auto company, and so he and Ester had a chance to visit every nook and cranny of the United States for many years.
Later, in retirement, they bought a cabin house near Brainerd. Still later, in the mid-1990s, they decided to move to the greater St. Cloud area and chose Sartell. It was devastating for Ester when the love and light of her life, Bob, died in 2008. And yet, with pluck and courage, Ester, who never had any children, continued to live independently in her apartment and to this day takes the bus whenever she has to go somewhere. Her neighbors in the apartment complex cherish Ester's company. They are constantly amazed by her spry independence, her quick mind and her sense of humor.
At the Whitney Center, all of the diners launched into song for Ester, singing a rousing version of "Happy Birthday." Then her guests told her they hope she will have many more birthdays. With an almost mischievous twinkle in her eyes, she said, "Well, we can always hope so."