Dr. Thomas Kowalkowski, medical director of the Intervention Pain and Physical Medicine Clinic in Sartell, was recently selected to present his research findings, at the annual scientific research meeting in Orlando, Fla.  His presentation was titled "The results of Patients treated with  Percutaneous Hydrodiscectomy for Radiculopathy Secondary to Herniated Nucleus Pulposis." The International Spine Interventional Society, is an organization of more than 3,000 physicians dedicated to the development and promotion for the highest standards of practice of interventional procedures in the diagnosis and treatment of spine pain.
Marissa Glazos of Sartell recently earned her bachelor's degree in biology from the University of Wisconsin-Madison.
Sartell U10-Blue Fastpitch team takes first place

contributed photo
The Sartell U10-Blue fastpitch team took first place in the Waite Park U10 softball playoffs. Team members include the following: (front row, left to right) Ellie Pallansch, Megan Driste, Kora Akervik and Rylie DeMaine; (middle row) Shelby Rahm, Emily Lunde, Emily Schlangen, Ashlyn Rogosheske, Kiley Schmidt, Rainna Stangle, Morgan Claseman and Ella Plamann; and (back row) Coaches Joe Stangle, Dave Driste, Dave Schlangen and Bryan DeMaine. Not pictured: Valeriya Woodward.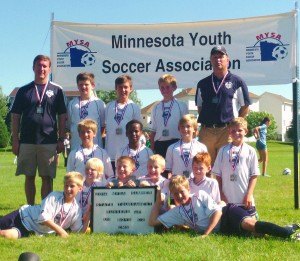 contributed photo
CMYSA U11 boys' soccer team members include the following: (lying left to right,) are Josh Minkkinen and Grant Martin, both of St. Cloud; (front row) Jacob Hirschfeld of St. Cloud, Carter Trombley of Sartell, Ethan Schroers of Sartell and Ethan Andersen of St. Cloud; (middle row) Ethan Miller of St. Cloud, Mohammed Farah of St. Cloud, Nick Sanderson of Sartell and Jake Manar of St. Cloud; (back row) Coach Andy Pearson of St. Cloud, Dylan Cummings of Sartell, Joe Pearson of St. Cloud, Liam O'Donnell of St. Cloud and Coach Michael Cummings of Sartell.
CMYSA U11 boys' soccer team places second in stateCentral Minnesota Youth Soccer U11 boys' soccer team placed second at the Minnesota state championship in Shakopee after a heartbreaking shootout loss on July 26 to an unbeaten Bloomington team. The team finished the season with a 8– record in the West District. In the first round of the state tournament on July 20, CMYSA tied with St. Louis Park 3-3 then advanced to the state title game with a 3-0 win over Inver Grove Heights on July 21. In the title game, CMYSA and Bloomington were tied at the end of regulation, then went to two five-minute overtimes where they were still deadlocked. It then went to a shootout where Bloomington won.
contributed photo
As part of its 15th official Patient Appreciation Week July 14-18 and the Gift of Health, a year-around effort that generates $10 per patient, 360 Chiropractic clinic has raised donations totaling more than $6,000 for the Anna Marie Alliance shelter this year. Their goal is $8,000 by Dec. 31. Each Patient Appreciation Day includes complimentary wellness visits, chair massages, reflexology work, a fitness challenge and lunch in exchange for a donation to the Anna Marie Alliance. The funds will be used to support the shelter's School Youth Program. Pictured (from left to right) are Dr. Brent Venables of 360 Chiropractic; Charles Hempeck, executive director of the Anna Marie Alliance; and Drs. Marc Anderson and Jon Anderson of 360 Chiropractic. "The Anna Marie Alliance is a worthy cause and we are proud to support them," Dr. Jon Anderson said.

contributed photo
Ruth Ann Haak, a Country Manor tenant, and student volunteer Sarah Goebel, a seventh-grader who is part of the youth ministry at Discovery Church, participated in the Fourth of July festivities at the Manor.
Country Manor housing communities
gather for a block-party-style carnival
On July 7, tenants from four Country Manor housing communities gathered to enjoy a Fourth of July themed carnival.  Tenants, family members and friends enjoyed an afternoon full of entertainment as the neighborhoods came together to celebrate summer "block-party" style.  Children from Kids Country Child Care and Learning Center were also on hand to participate in the fun and excitement that included an adorable petting zoo brought in from Erickson's of Osakis, horse-drawn carriage rides, mouthwatering summer-time classic sweet treats including root beer floats, and carnival-style games complete with prizes generously donated by the Country Store and Pharmacy as well as the Central Minnesota Credit Union. Volunteers from the community and students from Discovery Church were on hand to help host the festivities.  Tenants and their guests were treated to a selection of delicious desserts from the brand new full-service restaurant and bar on campus, Drakes. Taste-testing included old-time favorites like bread pudding. Tenants displayed their Fourth of July patriotic and fun-loving spirit by wearing their red, white and blue hats, necklaces and colors.