by Dennis Dalman
editor@thenewsleaders.com
Children of all ages will get a chance to participate in the second annual Back to School 5k Race and Kids' 1k Obstacle Course Saturday, Sept. 13 at Sartell Middle School.
Same-day registration will take place from 7-8:30 a.m. on that day. The 5k race will begin at 9 a.m., and the 1k obstacle course will start at 10 a.m. on the middle-school track field. Awards will be given at ceremonies after each event. Following the 1k obstacle course, there will be a raffled-prize giveaway.
All participants will get T-shirts, and each 1k obstacle participant will get a ribbon.
Besides combining fun and fitness, the event raises funds for much-needed amenities at the Sartell-St. Stephen School District's Early Childhood Center.
The event is co-hosted by PineCone Vision Center and Dentistry for Children, with contributions from many area businesses and with assistance from the Sartell-St. Stephen Community Education program.
Besides the races, the family-oriented day will feature vendors who will distribute information on aspects of health and fitness. There will also be snacks and beverages available. Inflatables will be set up on the school grounds.
To register for the event, go to SartellStStephencommunityed.com or call Cathy Vande Vrede at 320-253-4036, ext. 1.
Sponsors for the event will have informational booths at the event.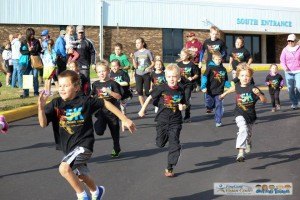 contributed photo
Children set out on the Back to School 5k Run at Sartell Middle School during the event in 2013. The event raises funds for the Early Childhood Education Center.
contributed photo
Nimble children have fun jumping hurdles at the 2013 Back to School 5K Run. This year's event, Sept. 13 at Sartell Middle School, will again offer the hurdles and many more fun physical activities to do.
contributed photo
Two bubble-blowing buddies have a good time during a break at the 2013 Back to School Run.
contributed photo
At the Back to School 5k Run, slated for Sept. 13, there will be plenty of fun for participating children, as there was last year with these inflatables.
contributed photo
Parents, too, can enjoy the Back to School 5k Run, as it offers many interesting vendors' booths to browse among.