by Cori Hilsgen
news@thenewsleaders.com
Dominic Ballou isn't your average 10-year-old boy. He has already experienced some difficulties in his life and is working hard to make changes. Ballou wants to make a difference for himself and other children by fundraising for playground equipment for a low-income housing development.
He has started his own non-profit, called Kids 4 a Safe Place to Play.
Ballou lives in the development with his family. He hopes to raise enough money to buy a Rainbow Play System. The company has offered to match funds. So far he has raised $2,000.
Other donations have come in, but he is waiting to open those envelopes with children from the neighborhood. He hopes to have a celebration party with the other children after he raises $5,000 for one playground area or $10,000 for two playground areas.
Ballou also hopes to put in a barbecue area, community garden and a bus shelter. The barbecue area is for residents of the complex to gather and share food.
Ballou's mother, Amber Wiese, believes the garden would help with sustainability and would add self-worth to residents. Ballou is working with St. Cloud State University to implement the garden.
The bus shelter would keep more than 15 children warmer on cold Minnesota winter mornings. If Ballou receives enough donations, he plans to donate them to a local mobile-home park that does not have a play area so they can also get equipment, a garden and other needed items.
Ballou is in the Chinese immersion program at Madison Elementary School – a program he has been in for five years. Through the program, he is receiving written and oral education in the Mandarin Chinese language. Dominic will be in fifth grade next fall.
He has two sisters — Amara, 8, and Morgan, 13. Amara was born 16 weeks premature, weighing 1 pound, 5 ounces. Dominic's mother, Amber Wiese, was on bed rest during most of her pregnancy. Amara was hospitalized for six months in the neo-natal intensive care unit and lost a kidney after experiencing kidney failure.
The family moved into low-income housing the day after Amara came home from the hospital. Wiese was unable to work during that time period and medical bills accumulated fast.
"It takes a lot of work to get out of low-income housing," Wiese said. "Dominic has lived in it most of his life."
Wiese started college nine months after her family moved into the low-income housing. She recently graduated with a bachelor's degree in social work from St. Cloud State University. It took her seven years to do that while living in low-income housing and caring for her children.
"Dominic knows all too well what living in poverty is like and the sacrifices that need to be made," Wiese said. "Dominic relates to his neighborhood friends."
The neighborhood complex has outdated playground equipment that is no longer safe.
Weise believes every child deserves a backyard and that is why Ballou is trying to help himself and his neighbors get one. Without public transportation or family cars of their own, many children in low-income housing don't always have a chance to participate in summer activities. A nice play area would give them something to do outdoors.
Because her funds were and are limited, Wiese said she often brought her children along to help when she volunteered. They have helped at Kids Against Hunger, the St. Joseph Community Meal and more.
She said between their development and the mobile-home park area, 100 children are living in poverty.
Wiese is excited about some of the things happening in St. Joseph to help with area financial needs. She said she hopes admitting they need help isn't too much of an issue of pride for some people who need an extra hand.
With her new degree, she hopes to be able to help in new areas. One area she is researching is Project Homeless Connect and a possible clothing exchange.
Ballou has been involved in Boy Scouts for the last two years. He has helped sell popcorn to raise funds and has built a good relationship with business owners. Ballou has sold $1,500 of popcorn sales each of the past two years.
"He is a cool kid," Wiese said. "Many people remember him and want to help him with his project. Being in Boy Scouts has helped to empower him to believe in himself."
Ballou has scheduled meetings with businesses on his own and distributes brochures with information about the neighborhood and his project. His non-profit is tax exempt.
He earned $1,200 his first day meeting business owners and others and talking to them about his project.
The whole purpose of Ballou's non-profit is to rebuild and restore the quality of life in low-income neighborhoods.
"Because of personal experiences and socio-economic barriers, it can take a long time to get out of poverty," Wiese said. "Some may not get out of it at all."
Like Ballou's family's story, many of his neighbors have similar stories of how they ended up taking a path they didn't choose into low-income housing.
Other children in the low-income development are also selling pizzas to help with the fundraising. Ballou's family wanted the neighborhood to be involved with the project so they would also feel pride and ownership in it.
Ballou does not have a special request for a specific piece of playground equipment; he just wants a playground that all kids can have fun on.
Ballou has certainly been getting the word out about his project. He has appeared on the pages of several newspapers and television news programs.
"Funding is coming in from all over the United States" Wiese said. "At this rate, Dominic will be able to do more than the two neighborhoods."
Donations can be sent to Dominic Ballou, #23 1002 E. Baker St., St. Joseph, Minn. 56374.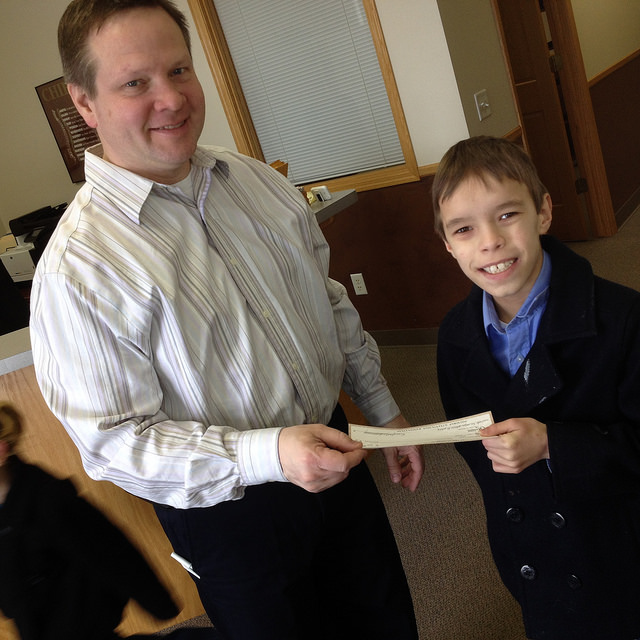 contributed photo
Dominic Ballou accepts a donation from Eric Medelberg at Medelberg Chiropractic in St. Joseph. Ballou is collecting donations to build a playground, barbecue area, bus shelter and more for low-income housing families.