by Dennis Dalman
news@thenewsleaders.com
Who in the world would wish for a drought?
Nobody probably, except for the folks who are concerned with Little Rock Lake near Rice. A drought, they believe, would restore that sick lake back to health and also help the Mississippi River north of Sartell.
And that was the subject of a two-hour meeting March 28 at Rice Village Hall, attended by more than 150 people. They included residents of Little Rock Lake and many people who live along the river north of Sartell. There are nearly 100 Sartell-area residents who live along that stretch of river, often referred to as the Sartell river pool. Some have objected to the drawdown planned for this summer and have asked why should people along the river sacrifice recreational options for a lake. Some have suggested a coffer-dam solution to lower the lake's level, but officials rejected that solution because of expense, noise and the danger of a breach and massive flooding.
Thus, an "enforced drought" (also known as lake-river drawdown) is just what the doctor ordered, according to the presenters at the Rice meeting. It was just the latest in many meetings during the past three years about the drawdown plan.
Lowering the river north of the Sartell dam by 3 feet will expose areas of lake and river bottoms so sun and air exposure will kill algae and new beneficial plants will take root and grow. The results? A decrease in phosphorus that causes algal growth, and thus improved water clarity and quality that promotes plant habitats for fish and waterfowl.
One Sartell resident at the March 28 meeting was former city mayor, Joe Perske, who is now a Stearns County commissioner. He said he attended the meeting for two reasons – the drawdown area is in his commissioner district and because he would like to see health restored to Little Rock Lake. When Perske was a boy, back in the mid-1960s, he would often visit his grandfather, Emil Perske, who had a cabin home on that lake. Perske said he remembers how much fun he had on that lake – boating, fishing, swimming – years before it became slimy-green with algae.
At the March 28 meeting, attendees gathered in small groups of about seven to 12 people and voiced questions and concerns. Later, a spokesperson for each group shared the questions with the group at large and the questions were written down on big paper sheets at the front of the large meeting hall.
Then, the questions were answered by Eric Altena, manager of Minnesota Department of Natural Resources Fisheries, Little Falls office. Altena has led many meetings about the proposed drawdown in the past few years.
Another speaker at the March 28 gathering was Kevin Winkelman, an official with River Creek Energy, which owns the hydroelectric dam in Sartell.
Along with Altena, Winkelman noted the recreational drawbacks to the drawdown. During the six-week drawdown period (Aug. 1-Sept. 15), river residents and visitors should be on guard against river rocks and possibly logs near or above the surface of the water level, and swimmers should beware of diving into areas that are suddenly shallower due to the drawdown.
Residents at the lake and river will be allowed to keep river's edge area free of weeds by raking, scraping them up, but no excavation or use of heavy equipment will be allowed by law.
What if hooligans using all-terrain vehicles go riding around on exposed river- or lake-bottom areas, especially after the bars close?
Altena said both sheriff's departments (Stearns and Benton) will be ready to answer any complaints to that effect.
How will people access the river with boats?
The Minnesota Department of Natural Resources Parks and Trails Division will create temporary fixes at public-access areas to make boating access possible, Altena noted.
What kind of water clarity is expected?
Altena: The clarity will almost certainly go from less than 1 foot deep to 3 or more feet of clarity on the lake.
What about carp?
Altena: There are carp in virtually every lake and river. The Little Rock Lake Association sponsors an annual carp catch to try to help reduce their population. About 3,000 pounds of them were caught and removed last year, an LRLA official said at the meeting.
What will happen?
Starting Aug. 1, if all goes as planned, the Sartell dam will begin opening gates to lower the water level 3 feet for an approximate 11-mile stretch of river north of Sartell. The lowering process will take about 36 hours.
That lowered level will persist for six weeks after which the dam will let the water rise again, another 36-hour process.
The drawdown is a partnership among the MNDNR, Little Rock Lake Association, the Benton Soil and Water Conservation District and Eagle Creek Energy.
The project cost is $235,000. A state Water Legacy grant obtained by the BSWCD will cover the lion's share. The LRLA has raised 70 percent of its goal of about $38,000, and Eagle Creek Energy contributed $30,000.
Both during and after the drawdown, the lake and river will be meticulously monitored and studied for changes. About 250 Boy Scouts have agreed to help with clean-up of the exposed areas and with planting of beneficial vegetation such as bulrush, burr weed and cord grass.
Altena said there are no 100-percent guarantees of success but based on other drawdown projects, there are bound to be benefits to both the lake and the river.
It's possible another drawdown might be needed in the future, say in seven to 10 years, but the good news, Altena added, is programs aimed at reducing phosphorus and other nutrient levels at watershed areas have been successful. For example, there are about 2,500 pounds less of phosphorus flowing into Little Rock Lake in each of the recent years. Those kinds of water-protection measures, combined with the drawdown, should add up to long-term success, Altena and others believe.
Little Rock Lake was formed as a backed-up water area when a dam was completed in 1907 at the paper mill in Sartell, basically the same dam that exists now and that will facilitate the drawdown.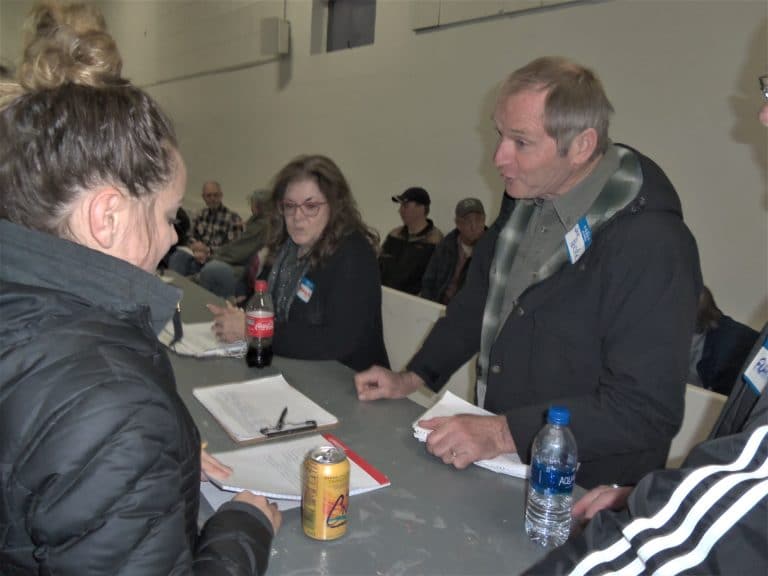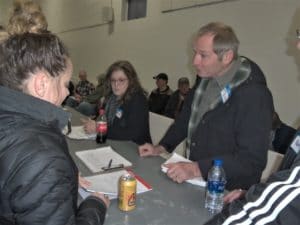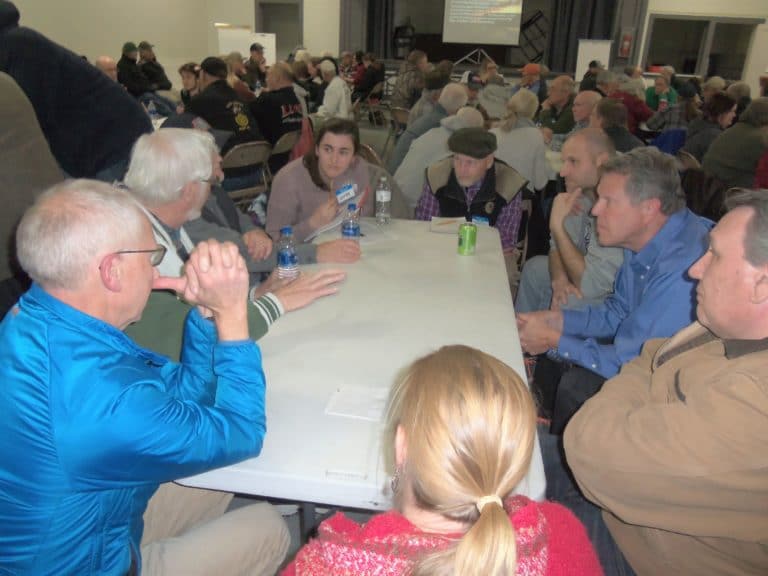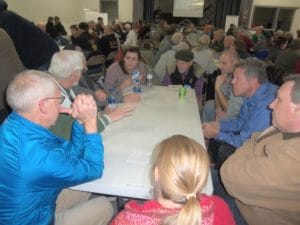 photo by Dennis Dalman
Attendees gathered in small groups and voiced questions and concerns. Later, a spokesperson for each group shared the questions with the group at large and the questions were written down on big paper sheets at the front of the large meeting hall.