by Heidi L. Everett
news@thenewsleaders.com
What's your favorite ice cream?
That's often one of the first questions David Boyer asks people he meets. Boyer is owner of Jupiter Moon Ice Cream, a new small business in downtown St. Joseph that specializes in hand-crafted, small-batch ice cream.
Boyer asks because he appreciates how people light up when they think of their favorite flavor.
"A smile happens," Boyer said, "because ice cream is joyful."
That's why Boyer turned his ice-cream-making hobby into a business.
Boyer started distributing Jupiter Moon Ice Cream in 2019 through home delivery service, local establishments and a whimsical bicycle at events. On Oct. 19, 2020, the physical ice cream shop opened.
"We wanted to create a sense of space that is blissful and joyful, a place you want to go and be and hang out," Boyer said.
On Nov. 1, Claire Lentsch, Farmington, was one of the people hanging out at Jupiter Moon and enjoying ice cream on an afternoon with friends she was visiting from Sartell. "We saw something on social media and thought this place looked awesome," Lentsch said, "so we had to check it out. We're future ice cream connoisseurs."
Here's the scoop
While Jupiter Moon offers traditional ice cream flavors, the playful names of novelty flavors will bring joy even before the first bite, like the flavor Purple Reign.
Then there's Dark Side of the Moon. This delight features four different variations of chocolate in every scoop.
Saturday Morning Cartoon? "It's an ode to childhood," Boyer said. This flavor features cereal marshmallows and French vanilla. Boyer likens the flavor to the milk left in a bowl after the cereal is gone.
Jupiter Moon also offers vegan ice cream that is made with coconut milk and includes coconut as part of the flavor profile. Vegan flavors include Pina Colada, Key Lime Coconut, Choco Coconut and Spicy Mango Coconut.
What is Boyer's favorite ice cream?
"I often crave Lemon Poppy Seed because it's subtle and refreshing," he said.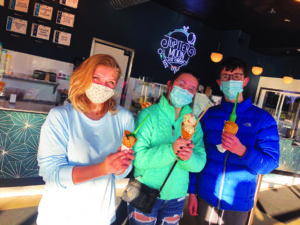 photo by Heidi L. Everett
Friends enjoy Jupiter Moon Ice Cream Nov. 1. They are (left to right) Claire Lentsch, of Farmington; Mady Bertsch, 15, and Adam Bertsch, 12, both of Sartell.