by Dennis Dalman
news@thenewsleaders.com
When good buddies Will McCabe and Lawton Miller are suited up with gloves, long sleeves and protective clothing, along with respirator masks on their faces, they look like they're seeking to eradicate killer viruses.
Well, in a way, that's kind of what they're doing. They are spraying to kill ticks and mosquitoes, those pesky critters that can carry and spread bacteria and viruses. So far, however, and fortunately, there is no proof that they can transmit the dangerous and contagious Covid-19 virus.
Miller and McCabe, both Sartell residents, are co-owners of a new business they recently opened, called Mosquito Mob. Both 21 and 2017 graduates of Sartell High School, the two men's friendship goes back all the way to elementary school. Their bond is almost like that of inseparable twin brothers, almost constantly together and sharing a love of the outdoors – fishing, swimming, sports. They were very active in high-school sports: football, baseball, hockey, wrestling, tennis.
"We love to watch big game sports," Miller said. "We also have a good, close way of communicating, and we're both on the same page. It's like the right hand knowing what the left hand's doing."
McCabe and Miller not only founded Mosquito Mob, they are its sole employees. They do spraying jobs in the greater St. Cloud area, including many properties – mostly residential lots – in Sartell. Once they land a job, they suit up and mix together two kinds of pesticides. On their backs they carry steel backpacks, which hold the chemicals, then they drive to their job in a truck equipped with a 100-gallon tank that holds the spray product and that they use to fill their blowers (sprayers).
The average residential lot takes about 30 minutes to spray its vegetation. Large lots can take up to two hours. The pesticide solution dries in about 30 minutes, after which time it is safe for people and pets to be around, Miller said.
The spraying job's effectiveness last about three weeks.
"It's a rewarding job," he said, "because many people really need the help. Some clients have had tick-borne diseases. One guy found a tick in his yard and had it tested. It was positive for Lyme disease. He called right away to hire us."
Ticks can cause Lyme disease and other forms of infection and disease. Mosquitoes, from time immemorial, have spread the dreaded malaria disease, which has killed millions of people throughout history, especially in tropical countries. In fact, it's been said the ordinary mosquito is the "deadliest animal" on the planet, McCabe noted.
Besides malaria, other diseases caused by mosquitoes include West Nile, Zika, dengue, yellow fever and chikungunya.
Ticks can carry pathogens that cause not only Lyme disease but a whole spate of diseases in various parts of the United States and the world. They include the Bourbon virus, Colorado tick fever, heartland virus and the sinister-sounding ehrlichosis, Borrelia mayonii, anaplasmosis and Babesiosis.
To avoid bites by mosquitoes and ticks, it's recommended people avoid the critters by wearing long pants and long-sleeved shirts and applying repellents that contain DEET. It's also advised that people check their skin and hair carefully for ticks after being outdoors, especially in wooded areas. If mosquitoes are swarming outdoors, it is best to move indoors or to a screened-in area.
Needless to say, Miller and McCabe are intensely aware of how ticks and mosquitoes can bring misery to so many people. Both men learned a vast amount of information about the pests while working during six summers for a St. Cloud-based tick-and-mosquito eradication service called The Mosquito Squad. When that company called it quits, McCabe and Miller decided to start their own business. Since March, they've acquired about 40 customers.
"I really like this job," McCabe said. "It's great to work outside in the summer. And as business owners, we can set our own schedules. It's a pretty simple business, really. And we're happy to provide service to a community we grew up in."
For more about Mosquito Mob, visit its website at mosquitomobmn.com or call 320-223-8755 or 320-292-4944.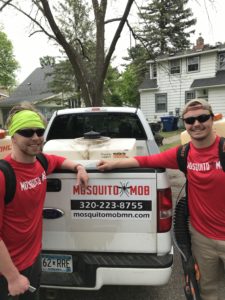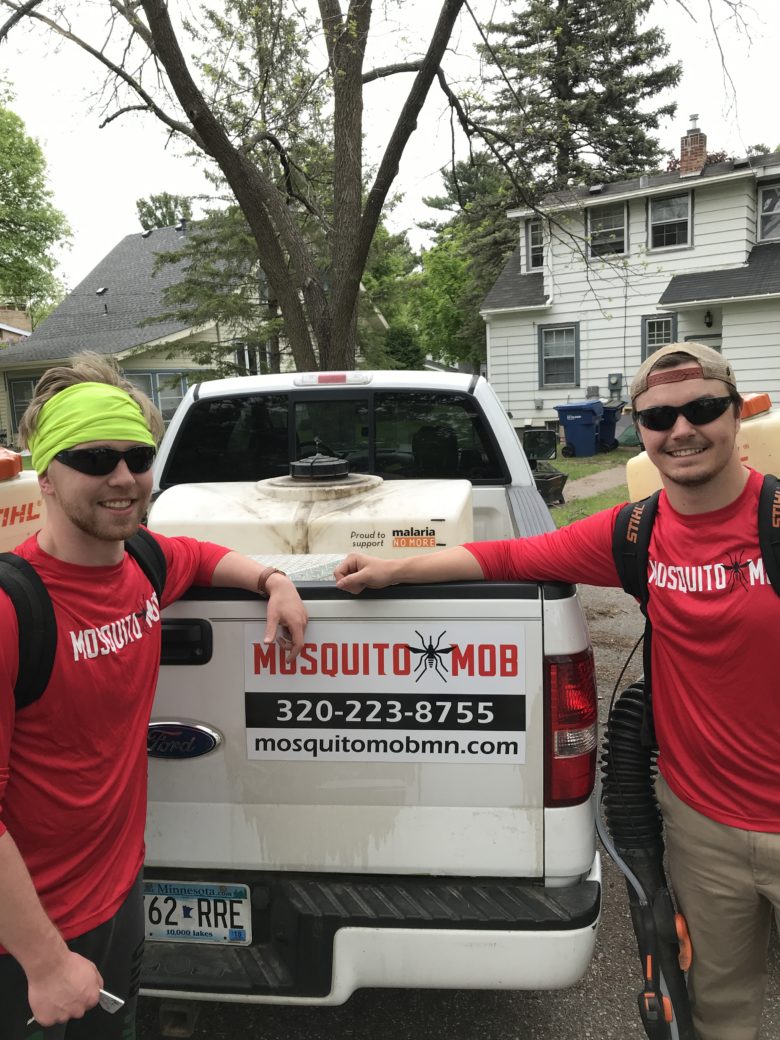 contributed photo
Lawton Miller (left) and Will McCabe start to don gear for a mosquito-and-tick control job.