by Heidi L. Everett
news@thenewsleaders.com
Sartell ConneX bus extended despite no fare, low ridership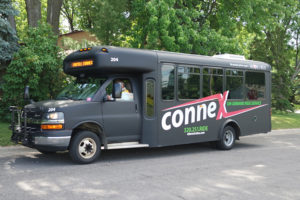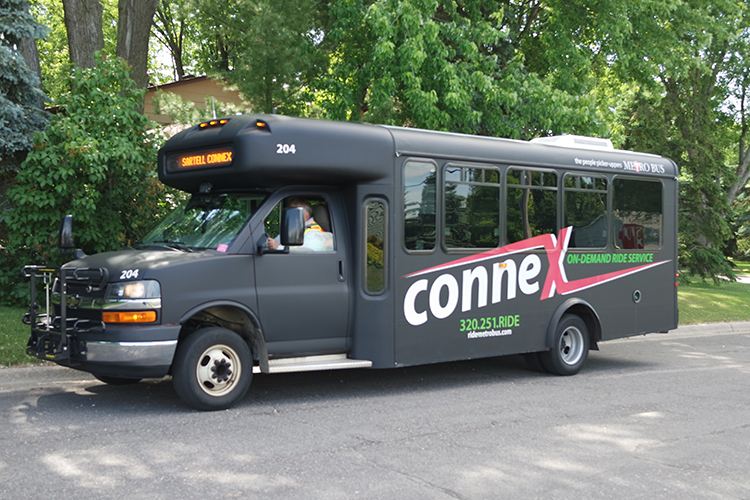 The curb-to-curb, on-demand bus service in Sartell known as ConneX is extending its pilot program another year, through December 2021.
"We need better information on whether or not this service is doing the job it needs to be doing," said Nate Ramacher, marketing and communications manager for St. Cloud Metro Bus.
"Are we serving the public to justify the expense?"
The pilot program was launched in April 2020 to replace the former fixed route loop around Sartell.
"The structure of Sartell makes it difficult to have a set route because of so many dead ends, neighborhoods and curved roads," Ramacher said. ConneX was developed as a way to better serve residents, he said.
The way ConneX works is someone will call and request a ride. The rider will provide a name, phone number, location and destination. Then, the rider is placed into a queue. Wait times for pick up will vary depending on demand. Those requesting a ride are asked to wait where they can see the ConneX bus as it arrives and be ready and able to board within one minute of its arrival. ConneX provides curb-to-curb service and will stop near the end of a home's driveway or near the entrance of buildings with parking lots.
Ramacher said the service is ideal for commuters, students attending the technical and community college or university in St. Cloud or people who want to run errands but are dependent on others for transportation. There are no age restrictions for passengers; however passengers must be able to ride independently or bring their own assistance.
"People don't have to walk several blocks to a bus stop," he said. "It's a convenient, affordable way to travel." He also noted it's a convenient way to avoid the hassle of winter driving.
The service is focused on Sartell and also goes to CentraCare Health Plaza. In addition, ConneX provides access to the downtown St. Cloud transit hub via a connecting route at Walmart. From the transit hub, riders can make connections with fixed routes throughout the St. Cloud area.
From April through October, the service provided 5,389 rides, which was less than expected due to COVID-19. "We wanted a year of data of ridership, but COVID has complicated that," Ramacher said.
The fare to ride ConneX was initially $2.50, and that came with a two-hour pass for fixed route connections or return rides home if completed within two hours. For example, if someone needed to get to the grocery store, they could request a ride, get to the store and shop, request a ride home and complete that all in two hours for the one fare. But, Metro Bus hasn't been charging fares on any routes since April because of COVID-19. The elimination of fares allowed passengers to board regular buses from the front and back of the bus to reduce congestion at the front of the bus and allow social distancing.
"The safety of our drivers and riders is of the utmost importance," Ramacher said.
Ridership has been low enough that capacity hasn't had to be formally reduced.
"People can social distance," Ramacher said.
Face masks also are required for all drivers and passengers, and increased cleaning procedures have been implemented.
While fares are an important piece of the Metro Bus budget, they do have access to state and federal funds to offset complications associated with COVID-1990. The extension to the ConneX pilot program through the end of 2021 allows time for Metro Bus to gather data on the effectiveness and efficiency of the service.
Riders can learn more at https://ridemetrobus.com/connex/.
Parked and ready: Trobec's awaits the return to school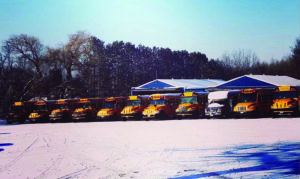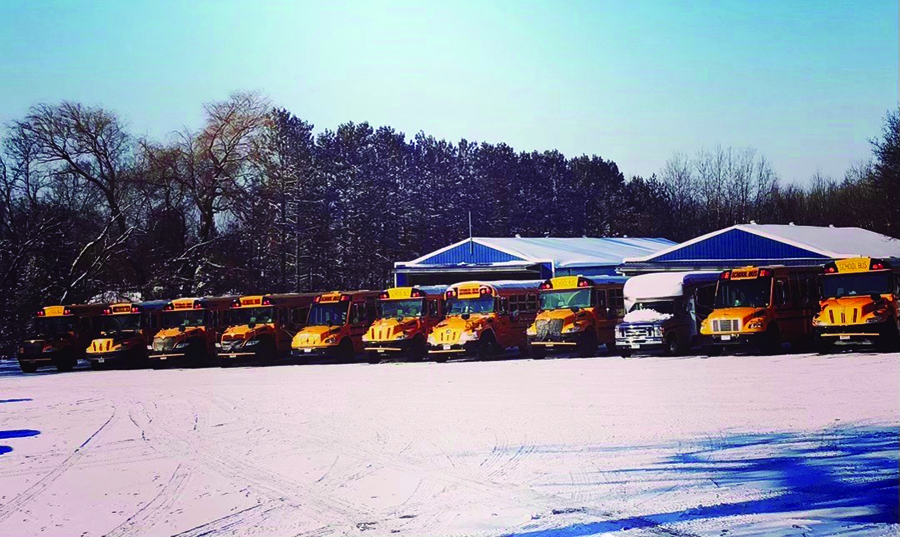 In St. Stephen, 80 of the 100 buses in the Trobec's Bus Service fleet are parked. Students are distance learning. Athletic events are cancelled. After-school activities aren't happening. The buses are parked.
"They are parked for the foreseeable future," said Bethany Schubert, vice president of Trobec's, which serves the 4,100 students of Sartell-St. Stephen School District and 9,900 students of St. Cloud Area School District. St. Cloud also contracts with Palmer Bus Co., Spanier Bus Service and Voigt Bus Service.
Like so many businesses being trounced in the COVID-19 pandemic, bus companies and their drivers are trying to navigate the deep potholes, speed bumps and wash outs that come with safety requirements to slow the spread of COVID-19.
"In August, we said the theme of this year is flexibility. No two days will be the same," Schubert said. "We have a great team holding this thing together."
In the fleet, 14 buses are still driving Monday through Friday, twice a day, to drop off breakfast and lunches to students in the St. Cloud district, but each district operates differently.
"While both school districts used to make decisions in tandem," Schubert said, "the size of the St. Cloud school district is larger, so extra precautions are taken sooner."
Their needs are also different.
Schubert said the company committed to guaranteed pay for their drivers this school year, even if the routes weren't running and even if they were unsure where the money was coming from.
"This was an easy decision for us to make," Schubert said. "We can't just pull a driver off the street. We want drivers here. We want them on our team."
Becoming a driver takes weeks of training to become licensed with background checks and other on-boarding requirements.
"Bus drivers are the backbone of getting our kids back into the schools," Schubert said.
Usually Trobec's has 120 drivers, but they have 70 this year. Schubert said it's because the demographic is older. Many drivers still want to work, but they won't until after COVID-19 is contained.
"They need to protect themselves," she said.
Lynda Shepard is in her third year at Trobec's, and she's remained on board during the pandemic. For 20 years, she was a foster care provider. Then she retired.
"I missed having the children around," she said. Her sister was a bus driver in Kentucky. "She said this would be perfect for me. And she was right."
Shepard drives a special education bus. She said she's missed seeing the smiles behind the masks students were wearing, but the bigger challenge was helping students understand why they needed to keep their masks on.
"They are constantly wanting to take their masks down," Shepard said. "We want to keep you safe and healthy, so masks on. Keep yourself safe, and it will help keep others safe. I do repeat that a lot."
Shepard said students don't understand what "flatten the curve means, so we need to communicate in a way that doesn't cause fear."
When the announcements come that students are moving to distance learning, Shepard feels it.
"I was sad when I realized I don't have as much time to prepare for this as I thought," she said.
She hopes students are able to go back to school and looks forward to seeing them first thing in the morning and at the end of their day.
"This is our normal lives right now," Shepard said. "We have to decide how we are going to let this affect our daily lives, our work, our family and our kids. It's hard."
For Schubert's part in these uncertain times, she's still recruiting drivers. Right now if everyone was back in school on a regular schedule, she wouldn't have enough drivers to cover the routes. And, Trobec's is willing to pay for it "from day one starting with training," she said.
"We weathered the storm in the spring," she said. "We need to hunker down, and we'll come through on the right side in 2021."