by Cori Hilsgen
news@thenewsleaders.com
More than 140 years after the Catholic church in St. Joseph was built, parishioners will no longer have to sweat it out in church. The Church of St. Joseph is installing air conditioning.
Business manager Sandra Scholz said Precise Refrigeration, Heating and Air Conditioning Inc. of St. Joseph, and Thielen Electric Inc. of St. Cloud did the installation last week and Phillip Construction of St. Joseph worked on the carpentry work this week.
Scholz said they have studied how air conditioning could effectively be installed in the church without greatly disturbing the interior and exterior aesthetics of the building for many years. She said she believes they have found a way by installing the Mitsubishi split-type air-conditioner units mounted under the balcony – units that were suggested by Precise.
"It's exciting to envision how comfortable people can be now when they are here for Mass, weddings and funerals during the hot summer months," Scholz said.
The church was built and consecrated in 1871 and is the first consecrated Catholic church in Minnesota. According to its website, this Roman Catholic church has more than 3,200 registered members.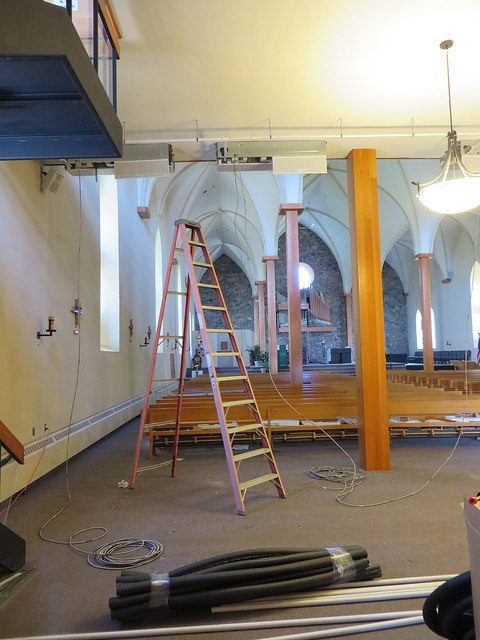 photo by Cori Hilsgen
The Catholic church is installing air-conditioner units under the balcony.