by Cori Hilsgen
news@thenewsleaders.com
The St. Joseph citywide garage sale May 16-17 included a youth group mission fundraiser at the Resurrection Lutheran Church.
Susan Curtis, her daughter Alana Curtis, and 1-year-old granddaughter Amelia Curtis were busy working the garage sale.
Susan will be traveling with the youth group on the mission trips. In June, the group will travel to People's Church in Bemidji to do a ministry with homeless people and with people who have been incarcerated and are re-entering society.
"In Bemidji, there is an incredible need for services for the homeless and People's Church provides food, shelter, clothing and spiritual support," Curtis said.
Curtis said they take the remaining garage-sale items that are not sold to Bemidji and Cass Lake. People are able to take whatever they need with no worry of paying for the items.
The group will also travel to Anchorage, Alaska at the end of July and beginning of August.
"It's a wonderful program," Curtis said. "Poverty is rampant. We travel to different neighborhoods and parks and set up Vacation Bible School and fun activities for kids."
The group also walks around neighborhoods and does prayer requests and job requests such as fixing broken windows and more.
Albany resident Rachel Ramacher, 15, perused items for sale. She made an extra donation to support the youth group as she purchased a candle at the garage sale.
The citywide sale was sponsored by the St. Joseph Jaycees, and a map of at least 41 sale locations listed items for sale that included furniture, bikes, toys, trailers, infant clothing and more.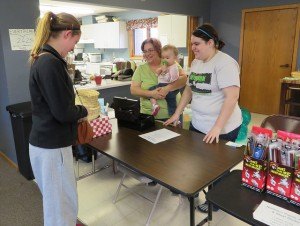 photo by Cori Hilsgen Albany resident Rachel Ramacher, 15, visits with Susan Curtis, one-year-old Amelia Curtis and Alana Curtis (left to right) at the Resurrection Lutheran Church garage sale.