by Dennis Dalman
news@thenewsleaders.com
When Steve and Nancy Streng of St. Joseph took their first hesitant dancing steps five years ago, they felt clumsy, uncoordinated, unsure of themselves. Their earnest but awkward efforts exhausted them physically and mentally.
But that was before they slowly but surely developed what's known as muscle memory, a term to describe that magic transition when all the muscles in the body seem to click together and learn how to dance, as if on their own volition. And that is the point when dancing becomes joyous, effortless, graceful. It was the take-flight moment when the clumsy couple from St. Joseph, the Strengs, began to morph into a virtual Fred Astaire and Ginger Rogers.
The Strengs, now both retired, are two of the eight founding members of the St. Cloud area Ballroom Dance Club. Formed in 2016, the club now has about 80 members (ages teens up to 80) who trip the light fantastic every Saturday night at the Sta-Fit center in Sartell.
Learning to dance was a definite "challenge," said Nancy, because she and Steve had long thought it was a talent they definitely lacked, to the point they never even tried it.
Then, one evening they were at Bo Diddley's restaurant in St. Joseph, chatting with acquaintances when somehow the topic of dancing surfaced. One of the people knew a guy named Mike Nelson, a professor at St. Cloud State University who loved ballroom dancing and was keen on teaching it. They agreed to someday soon go to Nelson's house and give it at least a try.
"I felt we – Steve and me – were just not teachable, but Mike challenged us," Nancy said. "He was determined to teach us."
And, from those queasy first steps, their love of ballroom dancing began. They have danced together almost every Saturday since at various venues.
Ballroom dancing is a whole new lease on life for the Strengs. It's not only great fun, but it's a way to stay physically fit and to meet so many good people. It is, they said, a wonderful retirement activity.
Steve was for years a vocational counselor at Workforce Center in St. Cloud. Nancy was a school counselor and private practice nurse practitioner for the St. Cloud school district. They have two sons – Tony, 38, who lives in Connecticut; and Lucas, 35, of St. Louis Park. To the Strengs' surprise, one of their sons and even their two granddaughters – have a gift for dancing, probably not genetically inspired, they're thinking.
"Blakely and Annabelle (Lucas's daughters) are in ballet," Nancy said. "Blakely is 4, Annabelle 2. Just recently, Steve and I got to see a Skype viewing of Annabelle doing a ballet 'promenade'."
When they viewed the Skype scene, both Steve and Nancy were smiling to beat the band. Son Tony and wife Christian are learning ballroom dance. Son Lucas, father of the budding ballerinas, has tried ballroom dancing but much prefers his hockey, Steve noted.
Ballroom Club
In the St. Cloud area Ballroom Dancing Club, which is anything but "snobby," everybody dances with everybody, said the Strengs.
"We rotate," Steve said. "There is a lot of camaraderie."
The dances take place every Saturday at Sta-Fit center in Sartell, starting with beginning lessons at 7 p.m. and a variety of dances from 8-10 p.m. Anybody interested can just show up. All are welcome and there is no pressure or intimidation as all dancers, even the more skilled ones, have a humble attitude of all learning together and helping one another hone dancing skills.
"There are new people coming every week," Steve said.
Those who do not want to become permanent members pay a guest rate of $10 per evening. Membership for a year is $35.
Music for the dancing is broadcast via laptop computer selections – everything from cha-cha to waltzes, from swing to tango. And yes, plenty of pop music.
"We have a couple thousand songs on the laptop," said Steve, who often serves as DJ. "We have songs from Frank Sinatra to Creedence Clearwater Revival. Songs by Santana, Eric Clapton, the Beatles, the Rolling Stones – well, pretty much anything."
When the club can scrape up enough funds, it hosts a Ballroom Blast with music performed by a rented band. The club also features a masquerade dance around Halloween, with participants wearing fun costumes.
The Ballroom Dance Club, Steve said, also connects with other dance clubs in the St. Cloud area and beyond, and the social network – extended friendships – keeps growing. Recently, a couple of dancers from this area tied the knot with a wedding dance at Glenwood Ballroom, which the Strengs and many other locals attended.
Through the years, the venues for the Ballroom Dance Club have changed. At first, the dancers danced at the Becky Studio Dance With Me, then they rented a venue at Studio Jeff and still later from the St. Cloud GREAT Theater location. Steve noted the owner of Sta-Fit, the current venue, was so eager to welcome the group to an ideal location for dancing.
Dancing, said the Strengs, is a suitable activity for any age, especially for retirees.
"There's so much camaraderie," Steve said. "It's a good mood lifter, a good way to be social with music and movement. People take breaks, sit down and socialize with one another."
For the last few years, the Strengs have taught dance lessons for members of the St. Joseph Catholic Church Parish during the month of January. It is, they said, an indication that dancing is catching on as a form of healthy fun exercise and a positive, broadening social experience for more and more people.
So many people, said the Strengs, so often say, "But I've never danced before. I don't know how to dance."
But the Strengs know better. For years, they said those very words themselves. Then they took a clumsy step or two, then a more confident glide and next a shuffle and a swirl and finally their muscle memories kicked in. Now they love to dance anywhere and everywhere.
"We especially like Latin-style dances," Nancy said. "We've been working on learning an Argentine tango."
For more information and photos and videos of the Ballroom Dance Club, visit its website at info@stcloudballroomdanceclub.com.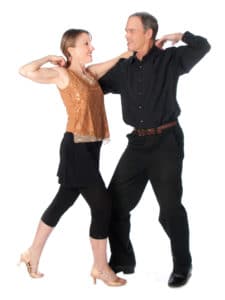 photo courtesy of Barry Weber Photography
Nancy and Steve Streng trip the light fantastic during a ballroom-dance session. The St. Joseph couple helped form the Ballroom Dance Club.
Author:
Dennis Dalman
Dalman was born and raised in South St. Cloud, graduated from St. Cloud Tech High School, then graduated from St. Cloud State University with a degree in English (emphasis on American and British literature) and mass communications (emphasis on print journalism). He studied in London, England for a year (1980-81) where he concentrated on British literature, political science, the history of Great Britain and wrote a book-length study of the British writer V.S. Naipaul. Dalman has been a reporter and weekly columnist for more than 30 years and worked for 16 of those years for the Alexandria Echo Press.