by Mike Knaak
editor@thenewsleaders.com
The Sartell City Council unanimously approved at its May 14 meeting spending up to $13.12 million for a new public-safety building after getting a look at design plans.
The new building will house the fire and police departments, combining all emergency operations in one building with space to grow.
Both departments will share training and conference rooms as well as a common lobby.
Plans call for the 45,000-square-foot building to be on the west side of Pinecone Road north of CR 133/Sixth Street S.
Following the council approval, HMA Architects and Strack Construction will go ahead with final plans leading to possible construction next spring and completion in 2020.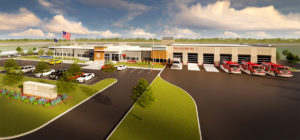 View complete interior and exterior plans for the public safety building