by Sister Renee Domeier, OSB
guest columnist
"I do not want to become the slave of my workload," says the third Vietnamese student-sister living with us at the monastery. We love to observe Sister Kim Lanh as she adapts to Benedictine life. She is a vowed member of The Lovers of the Holy Cross of Tan Viet, and the youngest child of a big family with eight siblings. She is pursuing a master's degree in theology with a focus on scripture. She wants the "Words of God to touch her heart, mind and deeds."
"I think my country has become a slave of trying to make enough money for basic family needs; our concentration on material needs robs us of thinking about the beauty of our culture, our history, our art, our family values. On the other hand, here in the United States, I see many people exceeding their needs and, in a competitive spirit, succumbing to technology, too much liberalism, individualism and hedonism. Thus Americans seem to turn away from enjoying their beautiful culture, its richness, and the value of their Christian faith at the root of that culture. Are we too devoted to an easy, monotonous lifestyle and unwilling to challenge ourselves to follow Jesus to Calvary? Even we sisters, freed from the responsibilities of married life, can become slaves to perfectionism or overwork. We, too, can forget the ultimate purpose of our religious life."
Many years ago, Sister Kim Lanh added, both America and Vietnam had big families; we spent much time together. But now, our nuclear families do not spend time together; both parents work; children lose formation and intimacy. This leads both parents and children to seek relationships outside their own homes, in multiple activities, sports, more work, more activities, clubs and more. This leads to another kind of slavery. Both our families and our cultures are in jeopardy!
Sister Kim Lanh also speaks to the differences in our educational systems. She so appreciates our emphasis on developing one's ability to think for one's self and be able to freely question texts, professors even the status quo. When she returns to her country, she wants to work on the moral aspect lacking in the education and formation of children, and through the children reach parents and the larger culture.
It is so good to have you with us, Sister Kim Lanh! Keep on teaching us!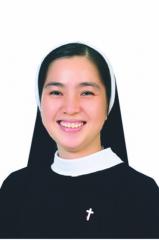 ……………………………………………………….
If you have any questions about this column, contact Juliana Howard at 715-791-8976 or Jamal Elmi at 320-310-2351.