by Mike Knaak
editor@thenewsleaders.com
The investigation of Jacob Wetterling's 1989 abduction and killing "went off the rails" from the beginning and the sheriff at the time, Charlie Grafft, lost control of his investigation to the FBI in the first few weeks.
That's the judgement of current Stearns County Sheriff Don Gudmundson. Before releasing more than 47,000 documents on Thursday, Sept. 20, Gudmundson presented a summary of the documents that in his view revealed 20 clues bungled by investigators that should have led them to Danny Heinrich.
On Sept. 6, 2016, Heinrich confessed to kidnapping and murdering Jacob Wetterling. Gudmundson asserted that the clues that should have led investigators to Heinrich actually where there as far back as Jan. 13, 1989, nine months before Jacob's abduction on Oct. 22.
That's when a 12-year-old Cold Spring boy was kidnapped and sexually assaulted. In 2012, examination of DNA evidence from the boy's clothing ultimately connected the crime to Heinrich.
In the years between, the files reveal missed clues, turf battles and inexperience.
A report less than 48 hours after Jacob's abduction from a Paynesville victim to a task force deputy advises that eight abductions between 1986 and 1988 in Paynesville and Jacob's case were perpetrated by the same person because it was "quick, military, and proficient."
"This tip was followed up on Jan. 5, 1990, more than two months after it was received. The young man's assessment was absolutely spot on," Gudmundson said in his presentation.
The files reveal a Dec. 16, 1989, teletype from the task force that the two abductions are believed to be the same.
"There are thousands of pages of unnecessary, redundant, detailed and ultimately meaningless reports about trivia like the kind of pizza ordered, movies watched or large amounts of toilet tissue ordered. The reports have been described as more detailed versions of who didn't do it. There was huge wastes of time and manpower particularly in the beginning. Essentially, there was a lot of manpower, but most of it was squandered," Gudmundson said.
"We also would say that you know your investigation is already off the rails when you are dealing with psychics Oct. 24, less than 48 hours after the abduction" Gudmundson said. "There was a lot of contact with psychics in the case. They are right about precisely nothing.
"Investigators are dealing with psychics before an excellent neighborhood canvas is ever done. There are also clairvoyants, tarot cards, Indian medicine men, witching rods, satanists, voodoo, witchcraft, hypnosis, premonitions, dreams and repressed memories reports in the file."
Meanwhile, real evidence goes nowhere.
On the morning after the abduction, Stearns County Investigator Steve Mund makes plaster casts of tire tracks and shoe prints from the crime scene. Three months later, while interviewing Heinrich, Mund concludes that casts of the tires and shoes match the tires on Heinrich's car and shoes.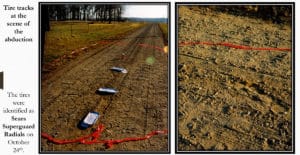 On Jan. 12, 1990, Mund writes that a polygraph exam given to Heinrich by FBI agents registered deceptive answers to questions about the Cold Spring incident and Jacob.
When investigators ask the Cold Spring victim to view a lineup on Jan. 26, Gudmundson said the exercise was not well planned and should have included all the Paynesville victims as well as Aaron Larson and Trevor Wetterling. Lineup participants should also have asked to speak the words common in all the abductions. Heinrich was not picked out of the lineup by the Cold Spring boy.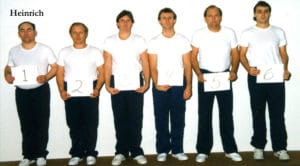 On Feb. 9, Stearns officers arrest Heinrich at a bar in Roscoe. Gudmundson described Heinrich's interrogation as a "fatal flaw."
"It's pretty hard to get a statement out of drunk people," Gudmundson said.
The files indicated agents from the FBI interrogated Heinrich and the interview was monitored by the FBI's Behavioral Science Unit. The records indicate the profilers didn't think Heinrich did the crimes.
"We regard the interrogation as the most fatal flaw in the Wetterling investigation. The BCA suppled their most experienced homicide special agents…. and up until April, the were running meaningless leads," Gudmundson said. "There was no one in the sheriff's office with extensive homicide investigation experience. The FBI are not trained homicide investigators."
The files show that on Feb. 9, Stearns County Attorney Pat Strom orders Heinrich's release.
On the same day, more evidence linking Heinrich to the crime falls victim to an apparent turf battle.
According to the files, an FBI Agent writes on a Stearns County Sheriff 's Office supplemental report on Feb. 9, 1990. "The information provided to (FBI agent Al) Garber (the task force commander) was that the FBI lab had made a positive match between a fiber taken from the carpet of Danny Heinrich's former vehicle, a 1987 Mercury Topaz and a fiber found on the victim, the Cold Spring boy's, snowmobile suit, and this writer was not to inform anyone in the Sheriff 's Department about the match."
The thousands of files released by Stearns County leave gaps in the narrative because more than 12,500 FBI files have not been released.
There's no mention of Heinrich for almost 20 years.
On July 18, 2012, DNA evidence on the Cold Spring boy's snowmobile suit and sweatshirt link Heinrich to the crime.
The statute of limitations expired for the Cold Spring kidnapping, meaning Heinrich could not be arrested and charged with that crime. A search of Heinrich's residence turned up child pornography and he was arrested on Oct. 28, 2015.
Heinrich decided to cooperate with authorities as part of a plea bargain and, on Sept. 1, 2016, led investigators to Jacob's burial site near Paynesville.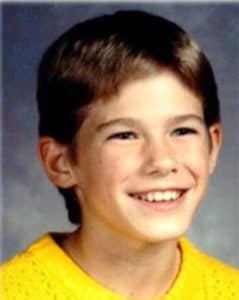 The Stearns officers involved in the initial investigation have died, retired or moved on. But Gudmundson said there are lessons to be learned from failures 30 years ago.
"We have assigned a permanent lieutenant to be in charge of investigations and ordered a detective to be at death scenes," Gudmundson said. "We also have extended them as detectives longer than four years. They were transferred out after a four-year period in the past."
Gudmundson, who was appointed sheriff in Jay 2017 after John Sanner retired before the end of his term, said he's directed his officers to look at the department's other cold cases.
"Read the reports. Read every bit," he said of records of unsolved crimes.
The investigators' defenders say the Wetterling case was so big that the clues that lead to Heinrich were "like a whisper in the crowd," Gudmundson said. (But) "it should have been a persistent whisper in the crowd."
20 reasons why Danny Heinrich should have been the main suspect according to Gudmundson:
He was in the military and wears camo around Paynesville. He lies and says he never does that.
In the military, he would have learned to use mud or face paint to disguise himself.
The Mercury Topaz used in the Cold Spring abduction matches the description given by the Cold Spring boy and the boy rates it an eight or nine out of 10 to be the car he was kidnapped in.
A fiber found on the Cold Spring victim's snowmobile suit is consistent with fibers found in Heinrich's Mercury Topaz.
The Sears Superguard Radials match tire prints left at the Wetterling scene. Suspects are most often eliminated precisely because they do not have the tires. He has the tires.
His shoeprints correspond to shoe prints at the Wetterling scene mixed in with Nike shoe prints worn by Jacob Wetterling. He has the shoes.
It is the detective who spots this who takes the casts and knows those prints better than other officers.
He fails a polygraph examination given by an FBI agent as to whether he was involved with either the Cold Spring abduction or the Wetterling kidnapping.
He has photos of children seen during the search warrant in his possession and lies about how he obtained them and who they are.
He has no known adult girlfriends or boyfriends.
He has the portable police scanner mentioned by the Cold Spring boy and confiscated in an earlier DWI arrest, the search warrant and seen by Duane Hart.
He uses every means to evade the surveillance by officers and agents.
In two assaults, he asks victim's age and grade. (Paynesville and Wetterling)
All across each of the three cases, he says the same types of things.
His voice is described by multiple victims as deep, raspy and is very distinctive.
Duane Hart describes the black ninja suit described by a Paynesville victim.
He has a handgun as seen by Duane Hart.
In the same month where he loses his job and when he kidnaps and kills Jacob Wetterling, he asks Duane Hart how to get rid of a body.
His overall physical description fits Paynesville, Cold Spring and Wetterling cases.
He fits the composite almost to a "T."