by Dennis Dalman
news@thenewsleaders.com
There is a good omen for renewal at the Verso paper mill site in Sartell, now in a state of drastic deconstruction.
A Canadian company, Edmonton Trailer Sales and Leasing Ltd., might set up its business on part of the Verso site.
At its last meeting, the Sartell City Council approved an application on behalf of Edmonton Trailer to the Minnesota Investment Fund. If it accepts the application and approves it, MIF could give up to $450,000 to help construct a manufacturing plant of 30,000 square feet on the Verso site.
Edmonton Trailer builds and services massive, heavy-duty truck trailers that can handle up to 100 tons. Such trailers are used by heavy-equipment companies and road-construction projects. The equipment it manufactures and services includes sales and leasing of folding goosenecks, jeeps and boosters, hi-boys and floats, low-beds, specialized heavy-haul trucks, crane rigging and winch rig-ups. They also deal in used trailers.
The company deals in manufacturing of the trailers and makes repairs to them. It expects to hire 50 employees, all local, and as many as 60.
Edmonton Trailer is based in Edmonton in the Canadian province of Alberta. Its management, in talks with Sartell city staff and American Iron and Metal, has said it wants to expand into Minnesota for the benefit of its American customers. AIM is the company, also Canadian-based, that bought the Verso site and is now dismantling the massive buildings to sell salvageable metal scrap.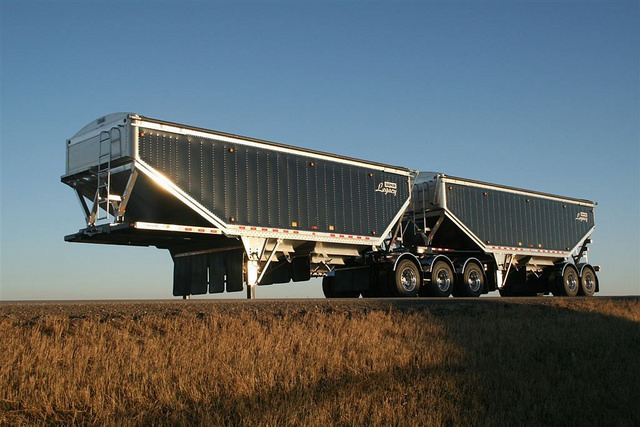 contributed photo
A massive Legacy Super B grain carrier is one of the many hauling products made by Edmonton Trailer Sales and Leasing Ltd., based in Edmonton, Alberta, Canada. The company is considering building a branch business on the Verso paper mill site in Sartell.