Bernadette and Robert Ethen have been named the Knights of Columbus Father Werner Council Family of the Year for 2018 for exemplifying the value of faithful Christian living, according to a recent announcement from the Knights.
Robert has been a member of the Father Werner Council for 31 years.
The Ethens have five children and 17 grandchildren. Robert has been active in a number of church activities. He is an honor guard for funerals, and distributes flyers for KC breakfasts, works as breakfast head cashier and works at breakfasts and hamburger sales.
Bernadette volunteers at these fundraising events for the Knights. The entire Ethan family has been involved in the Knights of Columbus. Sons Jerry and Tom have been KC members most of their lives. Their sons-in-law David Waletzko, Ryan Scherping and Eric Johnnes are members as well. Their grandsons Taylor Waletzko and Aaron Bartz are also KC members.
Robert is a lifelong member of the Church of St. Joseph, is a graduate of the St. Joseph Catholic School and Cathedral High School. Robert and Bernadette are Sunday and funeral ushers and usher mentors. Robert coordinates ushers to fill all the services for Christmas and Easter. Robert and Bernadette are sacristans for weekend services, funeral lunch workers and Fourth of July volunteers. Bernadette is a Eucharistic minister and serves the church as a wedding coordinator.
The Ethan, Waletzko and Scherping families are involved in the church community as instrumentalists, cantors, ushers, lectors, Eucharistic ministers, sacristans, catechists and Fourth of July volunteers. All of the grandchildren have been or are presently altar servers.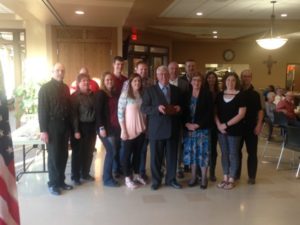 contributed photo
Bernadette and Robert Ethen and the Ethan, Waletzko and Scherping families.