by Cori Hilsgen
news@thenewsleaders.com
The November Fare for All distribution, to be held from 4-6 p.m. Monday, Nov. 10 at the Resurrection Lutheran Church in St. Joseph, will offer for purchase holiday packs, which replace the mega meat packs.
The holiday pack includes an 8- to 12-pound turkey, boneless-skinless chicken breasts, a pork roast, a pork-sausage roll, green beans and a 9-inch apple pie. There is no limit on the number of packs a person can purchase.
"Since we are a new site, this is the first time our site in St. Joseph is able to offer holiday packs," organizer Amanda Roles said. "It's a first for us. Fare for All's holiday packs are always very popular, and we at the St. Joseph site are very excited to be able to offer this opportunity to the community around us. This pack is intended to feed a family of eight a great, cost-effective, Thanksgiving meal, down to the apple pie."
Produce and regular meat packs will be available as they have been at previous sales. The produce pack usually includes five fresh vegetables and two fresh fruits. The meat pack usually includes four meat items.
Fare for All sells fresh produce and frozen meat packages, priced form $10-$30, at various Minnesota locations. Program participants can save up to 40 percent on food purchases and are able to buy healthier produce and meats. The program is open to anyone of all income levels. No advance registration is required.
The St. Joseph distribution site has done very well, surpassing initial expectations. The October distribution served 361 households with 548 packs. Volunteers are always needed.
"We are in need of more volunteers to help push carts," organizer Mary Plafcan said.
The Dec. 8 distribution will also offer a holiday pack for purchase. Items available in the December pack will be announced later.
Fare for All accepts cash, credit, debit and EBT cards. Resurrection Lutheran Church is located at 610 CR 2 in St. Joseph.  To volunteer, call Mary at 320-249-5718. For more information about the program, visit the online site at fareforall.org or call 763-450-3880.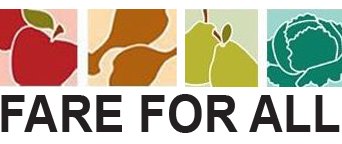 contributed image