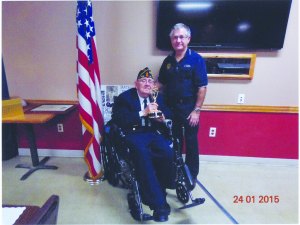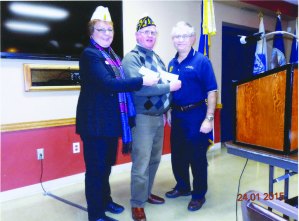 Larry Tillemans, a member of the American Legion Post 328, was recently honored Jan. 24 at a dinner at the Clubroom in St. Joseph. He received an Emmy for his work in the production of the one-hour program The Typist. Tillemans was a U.S. Army clerk-typist at the Nuremberg war crimes trials after World War II. He is featured describing his work during the trials in the one-hour presentation, recently shown on public television.
"There were 1,000 army personnel assigned to duty for the Nuremberg Trials and that was more than 60 years ago. I only know of one soldier that is still alive. Soon, there will be no one left [alive] to give first-hand account and tell the story," Tillemans said in a statement.
Guest speakers at the event were Peggy Moon, currently the first female commander of the Minnesota Department of the American Legion, and her husband, Dr. Carl Moon, who is the American Legion Minnesota Sixth District Commander. The Moons are St. Joseph residents.
A $200 check was presented to the Minnesota and Sixth District commanders by Post 328 Commander Chuck Kern to support their 2015 Legionville project.
••••••••••••••••••••••••••
Anna Bernstetter, daughter of Chris and Joe Bernstetter from St. Joseph, was recently named to the fall dean's list at Bethel University in St. Paul, Minn. She is a senior at Bethel. Students must maintain a minimum 3.6 grade-point average to earn this honor.
•••••••••••••••••••••
Eight St Joseph students recently graduated from St. Cloud State University.
Their names, degree, major and honors (where applicable) are as follows: Kylie Carlson, bachelor's degree in nursing, summa cum laude; Alexander Elmore, bachelor's degree in mass communications, cum laude; Amanda Ertl, bachelor's degrees in accounting and finance, cum laude; Sarah Jacobs, bachelor's degree in technology management; William Joyce, graduate certificate in school counseling; Jillian McKenzie, master's degree in higher education administration; Scott Reisdorf, bachelor's degree in land surveying/ mapping science; and Kari Wensmann, bachelor's degree in marketing.
•••••••••••••••••••
Katrina Johnson of St. Joseph was recently named to the fall dean's list at the University of St. Thomas, St. Paul. Students must maintain a minimum 3.5 grade-point average to earn this honor.
•••••••••••••••••••
Rajahna Schneekloth, daughter of Newsleader publisher Janelle Von Pinnon and Bruce Schneekloth, was recently named to the fall dean's list at St. Cloud State University. Students must earn a minimum 3.75 grade-point average to qualify for the honor.
•••••••••••••••••••
Dr. Michael Contardo has provided dental care for more than 35 years, and began working from his own clinic in St. Joseph in 1989. He became certified in laser dentistry in 2011, and with the implementation of Solea laser technology in December 2014, has made the decision to rename his clinic to Laser Dentistry.
"We chose the laser because it's much less invasive for patients, who at our clinic span from young children to the elderly," Contardo said. "Laser therapy is faster than traditional methods, produces no vibration, little noise and allows patients to resume their day as soon as the work is complete."
Along with the name change comes a new website, laserdentistrymn.com. The clinic is still located at 26 2nd Ave. N.W., St. Joseph.