---
Two Sartell students have been named to the fall semester president's list at Drake University, Des Moines, Iowa. Students achieving president's list honors earned a 4.0 grade-point average. The students are Zachery Fisher and Brooke Radi.
---
Employees from Stearns Electric Association recently visited fourth-graders at Oak Ridge Elementary School in Sartell to provide an interactive presentation on energy efficiency and electrical safety.
Stearns Electric's live, energized home-and-farm model was the highlight of the presentation. The model was used to show students what can happen when they get too close to electrical equipment.
Students also learned if the vehicle they are in hits a power pole, they should always stay in the vehicle, unless it's on fire. If the vehicle is on fire near a power pole, passengers should jump out of the vehicle with feet together and shuffle as far away from the accident as possible.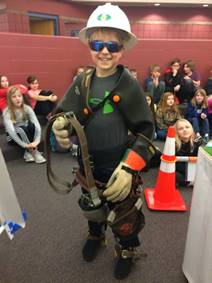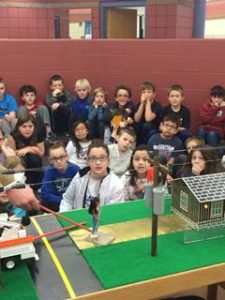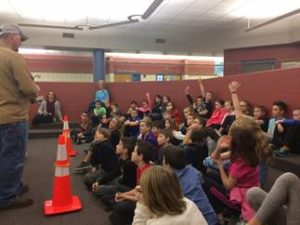 ---
Robert Sobania, a Sartell student majoring in applied mathematics and computer science, received the chancellor's award for fall semester at University of Wisconsin-Stout, Menomonie. The award is presented to students who have a grade-point average of 3.5 or higher.
---
John Liveringhouse, a junior and son of Sarah and Dr. John Liveringhouse of Sartell, was named the Marine Military Academy January 2018 Cadet of the Month for the Silent Drill Team.
The cadet who receives this award is nominated by his drill team instructor for his exemplary conduct, attitude and performance. Liveringhouse, a first-year cadet, will study chemistry at the University of Minnesota and will likely become a biomedical scientist.
The Marine Military Academy is a college preparatory school in Harlingen, Texas.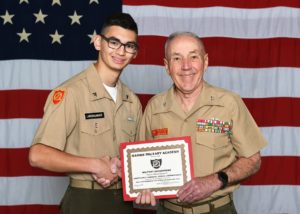 ---
 Six Sartell students have been named to the fall semester dean's list at Concordia College, Moorhead.  To qualify, students must carry a minimum of 12 semester credits and have a grade-point average of at least a 3.7 on a 4.0 scale.
The students are: Megan Franz, Curt Koopmeiners, Hannah Kosloski, Joshua Maricle-Roberts, Emma Mitzel and Alyssa Yapp.
---
 Nine area students have been named to the honor list and high honor list for fall semester at Mankato State University, Mankato. Students are named to the high honor list by achieving a 4.0 grade-point average, while students earning a 3.5 to 3.99 grade-point average qualify for the honor list.
Mackenzie Dockendorf, a St. Stephen senior majoring in exercise science, and Kira Haglin, a Sartell junior majoring in communication disorders, were named to the high honor list.
Sartell students named to the honor list were the following: Nathan Boenish, a sophomore majoring in finance; Sydney Dille, a sophomore majoring in elementary education; Taylor Reetz, a senior majoring in recreation, parks and leisure services; Nicole Schefers, a junior majoring in gender and women studies and psychology; McKenzie Specht, a junior majoring in psychology; Katelyn Tragiai, a junior majoring in family consumer science; and Makenzie Vosberg, a freshman majoring in exercise science.
---
Thirty-six area students have achieved academic honors at St. Cloud Technical & Community College.
Students, who earned president's list honors by achieving a grade-point average of 4.0, are the following: Jake Brenhaug, Tyler Cronquist, Andrew Groth, Amanda Hartnell, Brianna Hinnenkamp, Jarret Janu, Nicholas Lengyel, Jacquelyn Middendorf, Nathan Nierenhausen, Abigail Silman, Amanda Silva, Sandra Tabor, and Lindsay Greninger.
Students named to the dean's list, with a grade-point average of 3.5 t0 3.9, are the following: Kaiya Anderson, Kenneth Cruze, Tyler Elness, Kaleb Fisher, Nicole Fournier, Tessa Hager, Jennifer Hallerman, EvaLynn Johnson, Jessica Kinkaid, Olivia Lamont, Caylie Layne, Adam Pardoen, Jessica Potzmann, Ashley Raymond, Mitchell Rolek, Ann Stang, Morgan Tesch, Thomas Trnka, Amanda Trutwin, Megan VanHeel, Rachel Veerkamp, Jake Welle and Andrew Wensman.
Fournier, Greninger and Hallerman are from St. Stephen; all others are from Sartell.
---
Nicholas Juntunen, a Sartell-St. Stephen High School senior and son of Denae and Dan Juntunen, is a National Merit Scholar finalist. Juntunen is in the top one-half of one percent of all 1.7 million students who took the Preliminary Scholastic Aptitude Test.
Juntunen serves on the district's Curriculum, Instruction and Assessment Committee that provides a student perspective on the new high school and reviews the district's instructional program. He volunteers as a keyboardist in church, a mentor for Big Brothers Big Sisters and as a math tutor.
Juntunen served in leadership roles including student council vice president, cross country and track-and-field captain, National Honor Society treasurer and class office treasurer.