The Truckload Carriers Association and CarriersEdge identified Brenny Specialized Inc., St. Joseph, as one of the Five Best Fleets to Watch. To be considered for the Best Fleets program, companies operating 10 or more trucks had to receive a nomination from one of their company drivers or owner operators. The fleets were then evaluated in a variety of categories, including total compensation, health benefits, performance management, professional development and career path/advancement opportunities.
---
Cortney Ryan of St. Joseph graduated with a master's degree in teaching Dec. 14 from the College of St. Scholastica.
---
Two St. Joseph students were named to the first semester dean's honors list at Concordia College, Moorhead. The students are Carolynn Becker and Johanna Haeg. To qualify, students must carry a minimum of 12 semester credits and have a grade-point average of at least a 3.7 on a 4.0 scale.
---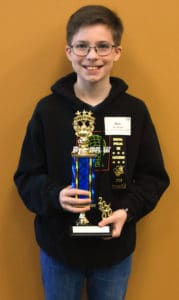 On Feb. 5, Resource Training & Solutions hosted the Central Minnesota Regional Spelling Bee. Forty-four students from 25 different school districts competed to advance to the Multi-Regional State Spelling Bee. The Central Minnesota Regional Spelling Bee was split into two contests. The first-place and second-place winners of each contest advanced to the Multi-Regional State Spelling Bee on Feb. 18 in Fergus Falls. Ben St. Hilaire, a seventh-grader from St. John's Preparatory School, spelled "contemptuous" to take first place in the morning session.
---
More than 600 fans turned out at Bernick's Arena in Sartell on Jan. 25 as the Blattner Energy Hockey Team hosted a free fundraising hockey game with the Minnesota Warriors veterans team that resulted in corporate, private and at-the-door donations topping $29,000 to benefit the veteran's nonprofit club. The funds raised will be used to help to expand the organization to the southern part of Minnesota to involve veterans in that area; help support the newly created Minnesota Warrior Women's Ice Hockey Team; and fund ice rental, travel and lodging costs plus league fees for teams who otherwise pay out of their pockets for those expenses.
---