Drake Lalim of Sartell accepted a football scholarship on Feb. 6 with the University of Mary in Bismarck, N.D. Lalim received offers from seven Division II colleges. Lalim started playing football in third grade. He is the son of Chris and Theresa Lalim.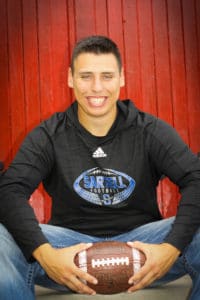 ---
Madeline Smith of Sartell has been named to the dean's list for the fall 2018 semester at University of Iowa in Iowa City. To qualify, students achieve a 3.5 grade-point average.
---
Two area students recently graduated during winter commencement at the University of North Dakota, Grand Forks. Shawna Buelow of St. Stephen earned a bachelor's degree in nursing. Matthew Bakken of Sartell earned a bachelor degree in business administration.
---
The Sartell Bantam B1 hockey team concluded its regular-season tournaments going three for three. They went undefeated at the Hibbing scrimmages Nov. 16-18, came home with the first-place trophy from the Moorhead tournament Dec. 14-16 and then earned first place at the Little Falls tournament Jan. 25-27.

---
Kelsey Frank of Sartell recently earned a bachelor's degree in special education from the University of Wisconsin-Eau Claire.
---
Six area students were named to the first-semester dean's list at Concordia College, Moorhead. The students are Jasmine Engstrom-Bolstad, Amanda Flemming, Hannah Kosloski, Joshua Maricle-Roberts and MacKenzie Nies of Sartell and Morgan Vouk of St. Stephen. To qualify, a student must carry a minimum of 12 credits and have a minimum 3.7 grade-point average.