Three Sartell students recently graduated with bachelor degrees in nursing from the College of St. Scholastica, Duluth.
They are the following: Shawn Petersen, Thomas Bieniek and Ryan George.
Sartell Middle School collects books for Books for Africa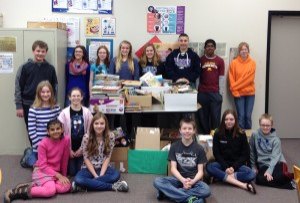 Callie Frank of Sartell, a senior theatre arts major at Southwest Minnesota State University in Marshall, was one of 13 SMSU students who participated in the District V Kennedy Center American College Theatre Festival held recently at Normandale Community College in the Twin Cities.
SMSU received four Meritorious Awards during the week-long event, including: costume design for The Heiress; costume design for The Comedy of Errors; ensemble acting for a scene from The Comedy of Errors; and creative concept for the melding of The Comedy of Errors with the Beatles' A Hard Day's Night.
In addition, Tony Falk, a December 2014 graduate from Slayton, Minn., was one of just 16 to be selected for the finals of the Irene Ryan Acting Scholarship competition. His scene partner was Frank. There were 314 entered in the competition.
Outside judges from District V were invited to the two productions and later met with students and faculty to discuss the shows. Their critiques were then used as the cornerstone for the award judging.
"We really did well," said Theatre Professor Sheila Tabaka. "There were 1,500 people in attendance — students, faculty and staff, and we held our own against schools like the University of Nebraska, Iowa State and Minnesota State Mankato. I was proud of our students."
Two Sartell students are touring with the college band Feb. 2-8 for Concordia College, Moorhead, Minn. They are the following: Sarah Kremer, daughter of Laurie and Michael Kremer, tenor saxophone, class of 2016; and Katherine Miller, daughter of Patricia and Stephen Miller, flute/piccolo, class of 2015.
Each winter, the Concordia Band tours regionally in the United States and internationally every four years. The 2015 band tour includes performances in Graham, Mercer Island, Tacoma and Vancouver, Wash., concluding with a home concert at 4 p.m. Sunday, Feb. 8 in Memorial Auditorium. For information on the concerts visit ConcordiaCollege.edu/music.
Sartell-St. Stephen Education Foundation welcomes new board members
Mike Spanier is a long-time resident of Sartell and worked in education and the Sartell-St. Stephen School District in a variety of capacities for more than 35 years in central Minnesota. He is a graduate of St. Cloud State University with a master's degree in business education and certification in secondary school administration. Spanier served the Sartell-St. Stephen School District as an assistant principal, principal, director of learning services and interim superintendent. He said he is proud of the school district and recognizes the benefits of a strong education foundation. He said he is looking forward to continuing to support the district on the Foundation board.
Sonja Babich is the director of sales and marketing for Blackberry Ridge Golf Club, Sartell. She received her bachelor's degree, with a double major in communications and art from Concordia College, Moorhead, Minn. Babich is also a 2006 Sartell alumni, and was very active with Student Council, Class Office, Sabre Splash, Curriculum Board, choir and sports.  She recently became a member of the Sartell Chamber of Commerce board of directors. She said she is looking forward to assisting and contributing to the leading-edge opportunities for the students at Sartell/St. Stephen School District and also our strong community.
Amanda Marthaler of Sartell recently earned her bachelor's degree in mathematics from the University of Wisconsin-River Falls.
Brigid Brew of Sartell was recently named to the fall dean's list at Benedictine College, Atchinson, Kan. To achieve the honor, a student must maintain a 3.5 grade-point minimum.
Two Sartell students were recently named to the president's roll of honor at the University of North Dakota, Grand Forks.
They were the following: Benjamin Davis and Brandon Yurczyk.
To qualify for the honor, a student must have an overall cumulative grade point average of 3.80 or higher.
Kayla Eidsness, Sartell, recently graduated with a bachelor's degree in marketing from the University of Minnesota-Crookston.
Five Sartell students were recently named the fall dean's list at the College of St. Scholastica-Duluth.
They are the following: Melodie Kabanuk Dohm, Margaret Minnerath, Mariah Moldaschel, Corinne Skoog and Lindsey Tollefson.
Students must achieve a minimum 3.75 grade-point average to qualify for this honor.