Emee Jagielski of St. Joseph is performing with the Gustavus Adolphus College Symphony Orchestra and Jazz Ensemble on a two-week tour of Malaysia and Singapore. The ensembles perform at high-profile venues such as the Shaw Foundation Stage at the Singapore Botanic Gardens and the Dewan Sri Pinang Hall, Penang, Malaysia. The student musicians will also participate in exchanges with local musicians. Previously, the groups have traveled to the British Isles, the People's Republic of China, South Africa, Greece and Macedonia.
---
Seven St. Joseph students have been named to the North Dakota State University fall semester dean's list. The list recognizes students who earn a 3.5 grade-point average or higher. The students are Courtney Deters, Morgan Eisenschenk, Callie Kostreba, Alisha Ophoven, Nicole Preusser, Olivia Skudlarek and Jeremy Warzecka.
---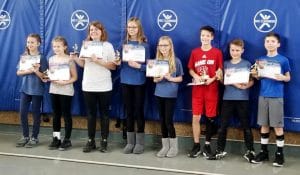 Eight St. Joseph area boys and girls, ages 9 to 14, were named local champions of the 2020 Knights of Columbus Free-Throw Championship and have earned the right to compete at the district level. Father Werner Council 7057 in St. Joseph sponsored the local competition at the St. Joseph Catholic School in St Joseph. Ellen Bechtold was the 9-year-old girls champion. 10-year-old champions were Dalyla Price in the girls bracket and Jake Murphy in the boys. In the 11-year-old bracket, Catherine Colberg was the girls champion and Scott Stephens was the boys champion. Twelve-year-old winners in the girls and boys division were Sylvie Bechtold and Michael DeMars. The 13-year-old girls division was won by Mary Colberg. Each contestant was allowed 15 free-throw attempts in the contests. Each of these winners will compete in the district competition at 1 p.m. Sunday, Feb. 9 at St Joseph Catholic School, with an eye toward moving on to the regional and state levels.
---
Eight St. Joseph students have been named to the fall semester dean's list at St. Cloud State University. To be eligible for the honor, students must have a grade-point average of 3.75 or higher. The students are Anna Emerson, Lynnsey Hoffmann, Abshir Ibrahim, Kaylee Lodermeier, Karissa Muehring, Hunter O'Hotto, Lindsay Rose and McKayla Walz.
---
Ten St. Joseph students have been named to the St. Cloud Technical & Community College fall semester president's list and dean's list. President's list students earn a 4.0 grade-point average and dean's list students earn a grade-point average from 3.5 to 3.99. The president's list students are Peter Drake, Kevin Huichapa, Mitchell Lowell and Charles Reber.
The dean's list students are Jose Barajas, Bisharo Dadow, Rachel Fischer, Sheila Hastings, Mikayla Kotsmith and Allison Notsch.
---