by Cori Hilsgen
news@thenewsleaders.com
The 22nd annual Habitat 500 Bike Ride kicks off July 13 at the College of St. Benedict in St. Joseph. The ride is limited to 135 riders who will travel with 40 volunteers.
Riders will check in on Saturday, July 12. The Sisters of the Order of St. Benedict will serve an evening meal and Resurrection Lutheran Church will serve breakfast to the riders before they travel to Osakis.
Participants will travel 500 miles from July 13-19 across central Minnesota to raise funds and awareness to help provide decent, safe and affordable homes to low-income families.
Riders bike 50 to 100 miles each day and stop six times throughout Minnesota. This year's route begins in St. Joseph and then travels 56 miles to Osakis, 70 miles to Menahga, 82 miles to Bemidji, 75 miles to Pine River, 81 miles to Little Falls and 62 miles before returning to St. Joseph.
Habitat for Humanity of Minnesota special events and communications manager Kristin Skaar said six local riders from St. Cloud, St. Joseph and Sartell are participating in the ride and hope to raise $10,000.
Jim Parsons, who is an associate director for research, reference and instruction at the libraries of CSB and St. John's University, is participating in the Habitat 500. Last year was the first year he participated.
"I am doing it again because I found a perfect mix of things I have always wanted to do – participate in a week-long bike tour and raise money for a very worthy cause, all at the same time," Parsons said. "What I didn't expect to find was the great camaraderie of fellow riders and other wonderful people I've met along the way – volunteers and Habitat homeowners. The experience was amazing, and one I can't wait to repeat this year and hopefully for many years to come."
"The Habitat 500 Bike Ride route started and ended in St. Joseph in 2011, so we're very excited to be welcomed back by the community again this year," Skaar said.
Participants will spend two nights in Bemidji and will have a chance to work on two homes, which Habitat 500 is sponsoring through the Northwoods Habitat for Humanity affiliate. One of the homes is a new construction site and the other is A Brush with Kindness project, a program that focuses on keeping people in their homes by improving them.
Both homes are about a mile from a Bemidji bike trail and bicycles, helmets and bike pumps will be donated to each family to encourage a passion for cycling.
Veteran rider Kim Livezey-Eisenbarth has been participating in the ride for the past 16 years.
"The week is challenging, but I get to ride through beautiful lake country, I get to visit with old friends and I get to promote and raise funds for a truly incredible organization," Livezey-Eisenbarth said in a news release.
Each rider is required to raise at least $1,000 to participate. Most raise more, and average $2,700 each. This year's goal is $400,000. Since it began in 1993, $5.19 million has been raised and contributed to 2,200 homes through the fundraising ride. For more information about the Habitat 500 ride or to donate, visit the website at www.habitat500.org.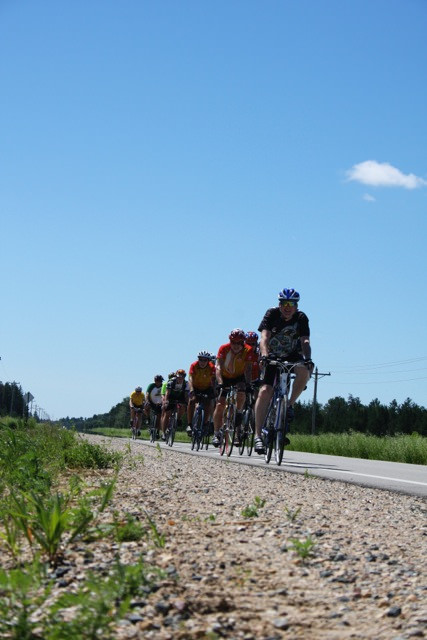 contributed photo
A free festival will be held July 19 at the College of St. Benedict to celebrate the local Habitat for Humanity's 25th anniversary. This is in conjunction with the 22nd annual Habitat 500 Bike Ride which kicks off July 13 at the college and returns on July 19. The ride is limited to 135 riders who will travel 500 miles, with 40 volunteers, to raise funds and awareness to provide homes to low-income families.