by Cori Hilsgen
Justina Henry is a certified massage therapist who wants to help people stay healthy.
Henry recently demonstrated her therapeutic massage at the Holiday Shopping Expo and Craft Fair at Joseph's in Avon.
"I firmly believe therapeutic massage can be beneficial to everyone, whether you simply want a relaxing massage, are dealing with an acute problem or have suffered with chronic pain for many years," Henry said.
Henry is a graduate of Sister Rosalind's School of Massage in Sauk Rapids. After completing the professional program, she joined the staff and advanced her skills, until she began practicing on her own two years ago.
Henry says many experts estimate 90 percent of disease is stress-related and that stress can age us internally and externally.
Henry said she believes therapeutic massage provides many wonderful health benefits. Some of the benefits include lowering stress levels, decreasing depression, increasing joint flexibility, reducing blood pressure, improving posture, reducing pain and improving range of motion, improving sleep quality and others.
Henry uses many types of massage which include different strokes, movement and application of pressure to specific points. Some options include Swedish relaxation massage, deep-tissue massage, trigger-point therapy, myofascial release, reflexology and prenatal massage. She discusses different methods with each client to help determine what is most appropriate.
A full-body session usually includes work on a person's back, arms, legs, feet, hands, head, neck and shoulders. A relaxing Swedish massage, which starts with broad, flowing strokes that help calm your nervous system and relax exterior muscle tension, is often a starting point for clients. Pressure is slowly increased to help relax certain areas and help relieve muscular tension areas.
A small amount of oil or lotion is often used so muscles can be massaged without causing extra friction to the skin. The oil also helps hydrate the skin.
Most clients just close their eyes and relax during massage sessions. After sessions, clients will report slowing down initially and then having increased energy. Henry said some report experiencing a freedom from long-term aches and pains which they developed from tension or repetitive activity.
Since Henry has portable equipment that allows her to travel to locations, she offers on-site massages such as an on-site chair/table massage. This massage is performed while a person is sitting in a special chair that allows the person to learn forward.  The massage directly treats the neck, back and shoulders, which are areas affected by office work. Many private businesses will hire a massage therapist to offer chair massages for their employees. Henry said studies have shown these employees have less muscle tension and greater productivity.
Henry, who grew up in Sauk Rapids, was previously an in-home personal care attendant for children of mental disabilities for eight years. She is married to Scott, who is a copy technician in the area schools for CMERDC. They have two children – Isabel, 11; and Rune, 6. Both children attend the Sauk Rapids/Rice school system.
Henry says she wants to help people stay healthier and happier and believes her services are worth the time and money.
"I want to help in a healthy way," Henry said. "I truly believe massage should be a part of everyone's life. I would be honored to be a part of your journey toward a new you."
Henry operates her massage business out of her home in Pleasant Acres, St. Joseph. She only takes scheduled appointments. She can be reached by telephone at 320-492-6035.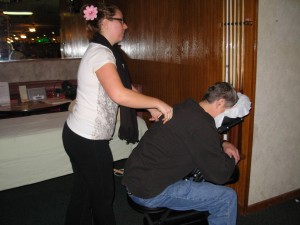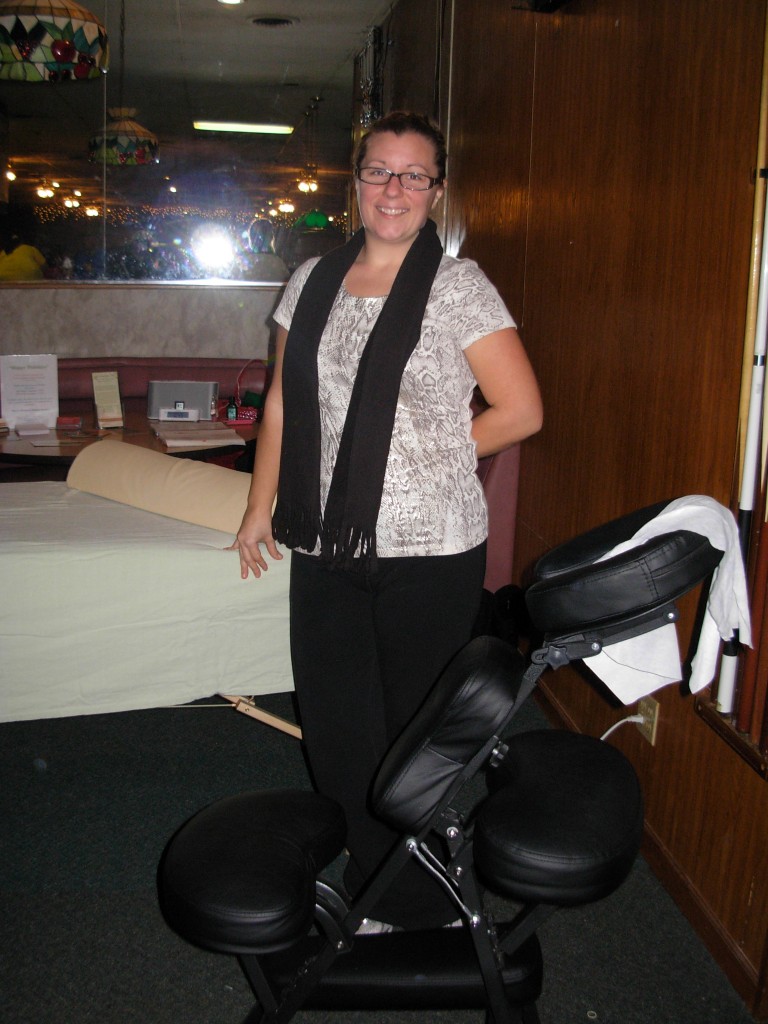 [/media-credit] Justina Henry, a certified massage therapist, has portable equipment that allows her to provide professional, therapeutic massages in her office or other on-site locations.