The Sartell area's unique history and geography shaped Learning Neighborhood names. Underneath the giant names at the entrances to each wing, text provides mini history lessons for the name selections.
Planners chose Watab, Meadow and Pine to represent that heritage. In each neighborhood, a small-group room with appropriate art follows that naming theme. Watab's room is named Riverdock, the Meadow neighborhood is called Hayloft and in Pine, it's Treehouse.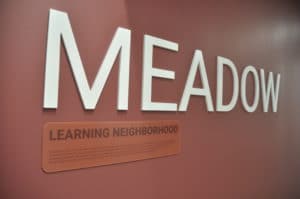 Here's the text that is displayed in each neighborhood.
Watab
First floor
From the mighty Mississippi to the Watab River, water has always been integral to people in the Sartell and St. Stephen communities. When Sartell was incorporated in 1907, the river was the lifeblood of the community, often influencing what industries and businesses developed in the area. Each winter, the frozen waters were harvested for ice, and large blocks were placed in local ice houses. The ice was stored and used well into the summer months. The frozen river was also used for transportation and recreational ice skating. In the summer, the river was used to move logs to local lumber mills. The Watab River, dubbed "the Crick," continues to be a treasured resource for our industry and entertainment.
Second floor
Minnesota is the land of many waters and the Sartell-St. Stephen community is no exception. Water has long been a source of recreation and entertainment and industry. In the 1950s and 1960s, a new winter entertainment venue opened called Winter Haven. Winter Haven was an attraction that was constructed on a hill adjacent to the Watab River. There was a large recreation building that contained a roller-skating floor in addition to an outside toboggan hill and ice-skating rink on the river. People came from miles around to participate in the many activities which included parades, the crowning of royalty, theater performances and a "Snow Train" ride from Minneapolis and St. Paul.
Meadow
First floor
In the early 1850s, the local area was opened to settlement and homesteading, and as a result, agricultural and livestock farming became a significant industry. One of the largest farms, named Meadow Lawn, was owned by N.P. Clarke. Clarke's herd of shorthorn cattle was considered the finest in the country, and they came to be known all over the world as the Meadow Lawn herd. Even as technology transforms our world, the agricultural landscape continues to be a prized and vital part of our community.
Second floor
Farming has a rich heritage in the communities of Sartell and St. Stephen and for many years, the economy was based mainly on agriculture and dairy farming. The Homestead Act of 1862 opened up settlement in the western United States, allowing any American to put in a claim for up to 160 free acres of federal land. In Minnesota, 9,500 settlers registered for free land. As a result, a large number of families settled this area and generations later, many continue to farm the land around us.
Pines
First floor
Logging was an important early industry in the area, tracing its origins back to Joseph B. Sartell. Pine Point, a unique woodland wrapped by a bend in the Mississippi River, was one of the select logging locations as it was home to coveted white pine. White pine was highly desirable because it is easily worked, adaptable to a variety of building purposes, and fairly light to transport. Fallen logs from Pine Point floated down the Mississippi to the sawmill which was eventually converted into a paper mill. For over 100 years, the mill was an important economic resource to Sartell and St. Stephen, and it helped shape our community into what it is today.
Second floor
Pine forests, once a source for the local logging industry, are still a vital resource for the community. Pine tree groves shape the landscape providing beauty, entertainment and refuge for all. It is not uncommon to spot wildlife such as fox, deer, grouse, eagles and many more who use the pine forests as their home. Our local parks and neighborhoods are infused with pine trees providing a serene sanctuary for hiking, cross country skiing and other outdoor activities.