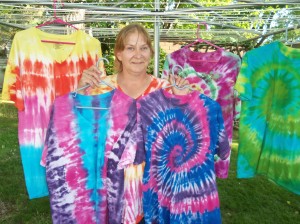 Food, music, games, fireworks and a farmers' market are just some of the family-fun activities set for July 13-14 at the annual "Holdingford Daze," which typically attracts thousands of people from throughout central Minnesota and beyond.
The event this year is sponsored by the Holdingford Commercial Club. Its overall theme this year is "Down on the Farm," a homage to the agricultural roots of the Holdingford area.
Here is a line-up of activities:
Friday, July 13
1 p.m. Classic Antique Car Show.
6 p.m. Walk of Hope Cancer Walk, at high school ball field.
7 p.m. 500 Card Tournament, St. Mary's Church basement.
All day Friday and into early evening will be a farmers' market.
Saturday, July 14
The farmers' market will be open throughout the day. There will also be food booths, surrey-buggy rides, youth volleyball tournaments and lots of games and drawings.
8 a.m. 5k walk/run and Kids 1k walk/run.
9 a.m. Volleyball tournament, Veterans' Park.
10:30 a.m. Miniature tractor pull, sack race, kiddie parade.
1 p.m. Downtown Grand Parade.
1-5 p.m. The Ostendorf Band will perform on main street.
2-4 p.m. Vintage Tractor Show, cake walk, Bingo, firefighters' water fight, bean-bag toss.
5:30 p.m. Polka Mass.
4-7 p.m. Grilled-chicken dinner, City Hall Center.
7-9 p.m. Square-dance performance, American Legion.
9 p.m.-1 a.m. Street dance with music by Rambler Roads.