by Dennis Dalman
news@thenewsleaders.com
Gourmet theme dinners will soon be served in Sartell, St. Joseph and St. Cloud to raise money for Imagination Library in Central Minnesota.
The dinners cooked and served at the homes of volunteers will take place in St. Cloud April 6 (10 dinners) in Sartell April 13 (10 dinners) and in St. Joseph (five dinners), also April 13. An estimated 200 diners, total, will enjoy the meals. For tickets, call Lori Eich of United Way at 320-229-3501.
The Imagination Library fundraiser will launch the 10th year of the program in Central Minnesota. Organizers hope to raise $55,000, and all of that money will be used to send a free book every month to more than 7,000 children, ages birth through 5, in Central Minnesota.
Imagination Library is a free book program started in 1995 by famed singer-songwriter Dolly Parton. It now serves 1,412,715 children in the United States, Canada, the United Kingdom, Ireland and Australia. A total of nearly 117 million books have been sent to children in the 23 years since the program began.
Children's dreams for the future are often inspired by books, Dolly Parton believes.
"When I was growing up in the hills of Tennessee, I knew my dreams would come true," Parton wrote on the Imagination Library website. "I know there are children in your community with their own dreams. They dream of becoming a doctor or an inventor or a minister. Who knows, maybe there is a little girl whose dream is to be a writer and singer. The seeds of these dreams are often found in books, and the seeds you help plant in your community can grow across the world."
The dinner fundraisers have been done in previous years in the three local cities, Eich noted. Some of the dinner themes this year are Escape to Neverland, Alice in Wonderland and Cuisine Royale (playing-cards theme).
Participants in the dining program will first go to an anchor home in the city for which they are signed up. There, appetizers will be served and each diner will find out which home in that city they will go to for a theme dinner. The dinners are prepared by talented resident cooks, restaurant cooks or trained chefs. After dinner, guests will return to the anchor homes for dessert.
Premier Real Estate Services is the main sponsor this year, and Ashley Green of Green Thumb Etc. in St. Cloud, provided three refurbished chair artworks to be auctioned off. Also up for auction is the child's book "Coat of Many Colors," autographed by its author, Dolly Parton.
People who do not participate in the fundraiser can still contribute to Imagination Library, central Minnesota chapter, by going to unitedwayhelps.org
Find out more about Imagination Library at imaginationlibrary.com.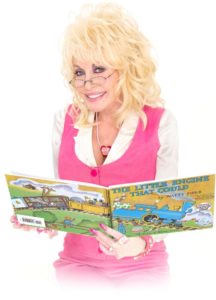 Author:
Dennis Dalman
Dalman was born and raised in South St. Cloud, graduated from St. Cloud Tech High School, then graduated from St. Cloud State University with a degree in English (emphasis on American and British literature) and mass communications (emphasis on print journalism). He studied in London, England for a year (1980-81) where he concentrated on British literature, political science, the history of Great Britain and wrote a book-length study of the British writer V.S. Naipaul. Dalman has been a reporter and weekly columnist for more than 30 years and worked for 16 of those years for the Alexandria Echo Press.