by Dennis Dalman
One day in 1946, Ron Hurd, who still lives in Sartell, was 5 years old when he walked with his uncle next door to get water in buckets. On the way home Ron looked down the driveway and saw his long-gone father returning from war.
"I had not seen him in two years, but I recognized him!" Hurd remembered recently. "I was one excited boy!"
His father, a U.S. Marine, had fought in the bloodbath of Iwo Jima, an island in the Pacific Ocean, and was then stationed in post-war Japan for six months. Back in the U.S.A., he had hitchhiked home from Minneapolis after a long bus ride from the West Coast.
That's just one of the heartwarming (and sometimes heartbreaking) memories in a new history book written by William T. Morgan of Sartell, a distinguished historian and retired professor of American studies at St. Cloud State University.
The title of the just-published book is "Where Rivers Merge: Stories from the History of Sartell, Minnesota." The "rivers" in the title refer to the Mississippi, the Watab and the Sauk. The 84-page, large-format book is chock-full of illustrations, maps and photographs. It also features several chapters about historical places or incidents near Sartell.
Long before settlers from Europe arrived at what would become Sartell, the area was inhabited by Native Americans – Ojibwes and Dakotas. Traces of those people are still evident, such as the pictographs on "Peace Rock," a giant granite outcropping near Sartell on the west side of the Mississippi River.
From the late 1800s until well into the 20th Century, Sartell was a village of fewer than 1,000 people. Throughout the years, the village grew slowly but surely: farms residential homes, a grocery store, churches, a budding police and fire department, a motel, a couple bars, an elementary school, ice delivery, a paper mill and a valve-making company.
For his book, Morgan did extensive research, including interviews with many who still remember the good old days of growing up in the village of Sartell.
Many of those people recall that homes back then did not have running water. Water was difficult and expensive to access by digging wells because of a thick layer of granite. Water was collected in cisterns, and many residents (like the Hurd family at the beginning of this story) often had to get their water in buckets carried by kindly neighbors.
The following are excerpts from some of the people who shared their memories with Morgan for his book.
Arlene Mendel: "We did a lot of walking growing up, and we lived a block and a half from the V Bar. On Sunday morning the neighborhood kids would go there to find any money that the patrons had dropped on Saturday night, and many times we found enough so we could all walk to the movies on Sunday afternoon.
"Once in awhile we found enough to go to the 'elite' Paramount Theater in downtown St. Cloud. Movies were about a nickel in Sauk Rapids and a dime or so at the Paramount, depending if they were black-and-white or in color."
Robert DeZurik: "In those days parents did not have to worry about the safety of their children. I rode my bicycle to St. Cloud many times. Did it alone a few times. The trip was five miles one way. Always went to Jim's Bike Shop. I guess I went there just for something to do.
"The first water we could swim in, in the spring, was Watab Creek. We were anxious for the ice to move out. The first one swimming had bragging rights. We probably turned blue, but anything to be the first in. We had fun in the woods and quarries a few blocks from our home. We played Army, Cowboys and Indians, Hide and Seek and more."
Neal Pearson: "That afternoon in 1945 while we were at the bar, word came that the war was over and the guys in the bar all cheered and there was a lot of excitement. Someone said we had to celebrate and they decided to take out a firetruck and asked if I wanted to go along. They put me on top of a hose rack, and we went north of the River Road ringing the bell on the truck and drove south to Sartell Street, ringing the bell and shouting 'THE WAR IS OVER.'"
Jeff Sartell: "It was a short walk to the swinging bridge connecting the west side of the river to the paper mill. Walking across that bridge, looking down at the water rushing over the dam, was another enjoyable childhood experience, especially on a day with a wind adding movement to the bridge."
Aggie Smitten: "During the Depression our father, Clarence, would line up early in the morning at the paper mill in hopes of getting a job for the day. Oftentimes only a few men were given a job. Having grown up on a farm, Dad knew many farmers. He would walk to their farms and ask to do a day's work for a chicken to take home to the family. Times were tough, but nobody was ever turned away hungry from our house. My mother would make sandwiches to give to the hobos that got off the train across from our house on Mill Street."
Among the topics covered in "Where Rivers Merge" are Oxcart Trails, Stagecoaches, Winter Haven Celebrations, Sartell Schools, Sorell Motel, Rip's and Perry's Stores, Nearby History, and many more.
Two of the entries are tragic – Boulsen Murder and Rice Cyclone.
Boulsen murder
Frances Bohlsen, one of 12 siblings, lived in LeSauk Township. During the Great Depression, Frances, who was 17, decided to work as a barmaid at Watab Tavern in Sartell, next to the DeZurik valve company. Just before midnight, May 27, 1934, three men burst into the tavern to rob the place. Standing behind the bar, Frances fled toward the kitchen and was shot in the back. The bullet severed her spine, paralyzing her from the waist down. Awakening from a coma, she was able to describe the three men. She developed pneumonia and died on June 1, 1934.
The three robbers (from elsewhere in Minnesota) had committed a long series of robberies in small towns. They were apprehended, found guilty and sentenced to prison.
Rice cyclone
Fourteen members of a wedding party were killed and others injured when a tornado struck near Rice on April 14, 1886.
The twister formed in St. Cloud, crossed the river and all but wiped out Sauk Rapids, then moved north past Sartell to just east of Rice (then known as Rice's Station).
At the farmhouse of John Schultz, a garden wedding ceremony united his daughter, Wilhelmina, and Henry Freitag. After the vows were exchanged, 35 guests gathered in the house for a big feast. At 5:30 p.m., the tornado smashed into the house and killed 14 people, including the groom and the pastor. The twister then went on to kill two men in Buckman and a woman at Fish Lake.
The bride, Wilhelmina, recovered from her injuries and three years later married a man named Adolph Schreiber. The couple had five sons and three daughters. Another tragedy struck in 1897 when Adolph fell to his death from a ladder while fixing a chimney. Wilhelmina died at age 82 in Bagley.
"Where Rivers Merge" can be purchased for $19.95 by calling its author, Bill Morgan, at 293-5871.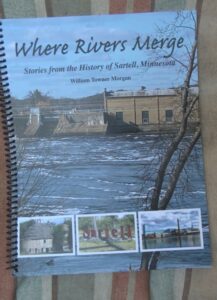 contributed photo
This is the cover of William T. Morgan's recently published book entitled "Where Rivers Merge: Stories from the History of Sartell, Minnesota."