The American Legion is celebrating its 100th birthday in 2019. In addition to national and statewide activities commemorating this milestone, American Post 328 of St. Joseph is planning a number of festive and patriotic activities for the community.
One of those special events will be profiles of St. Joseph-area veterans published in each Newsleader during 2019. The Newsleader is joining with Post 328 to recognize veterans and Legion members who served during World War II, Korea, Vietnam, Iraq, Afghanistan and other theaters of conflict and Cold War tensions.
by Tom Klecker
St. Joseph American Legion
Marvin Bierschbach, 72, U.S. Army, Vietnam
Marvin was born and raised on a 160-acre dairy farm near Elrosa. Prior to being drafted, he farmed, was a construction laborer and worked at Fingerhut.
Marvin entered the army Dec. 3, 1965. He was sent to Fort Leonard Wood, Mo., for basic training. He was 19 years old. Having completed basic he then went to Fort Carson, Colo., for advanced infantry training.
On Aug. 2, 1966, Marvin shipped out on the troop ship, USS Gaffey. The ship carried 2,000 soldiers. The journey took 18 days. Upon arrival in QuiNhon Vietnam, Marvin was assigned to the 1st Air Cavalry Division. This combat infantry unit is not like most conventional infantry. It became in Vietnam an air assault division in which helicopters brought in units.
Marv was assigned to a .81 mm mortar platoon as a gunner. A mortar is best described as a short-barreled cannon which hurls shells in a high trajectory. This weapon is highly mobile and is an infantry weapon for close combat. Marvin says his platoon saw lots of action.
Involved in one particular ambush-fire fight, Marvin shared how his two best friends were killed right alongside him. That disclosure of fate prompted Marvin to say "I am a very lucky person."
Being in the field most of the time he was always wet from rain and tramping through rice paddies.
"We may go a month or two with no change of clothing," he said. Mail was infrequent and food essentially came in MRE boxes (meals ready to eat).
"We might be walking all day, tired and wet only to have helicopters come in, pick us up and take us to another location in which Viet Cong were sighted," he said.
Marvin felt particularly sorry for the Vietnamese people living in the villages. During the day, Americans would enter a peasant village looking for weapons, with some villagers selected for interrogation. At night Viet Cong would come into the same village threaten, torture some, kill the chickens, confiscate rice and force the young men into their ranks.
Marvin laments the fact that these Vietnamese peasants were left with nothing but constant fear over a situation they had little to do with and no control over.
With Marvin's tour of duty over, he left Vietnam on July 30, 1967. After being discharged from the army, Marvin commenced work at Hoerner-Woldorf in St. Cloud. After 41 years, he retired in 2009.
Marvin dated Jane for about a year before the army.
"She was my girlfriend," he said.
Though mail call in the field was infrequent, "She kept writing me letters the two years I was in the army. Now you may ask, why would she?"
Being out of the army six months, Jane and Marvin Bierschbach married on June 1, 1968. They live in St. Joseph and have been married for 50 years. Jane and Marvin have four children, eight grandchildren and one great-grandchild.
In retirement Marvin enjoys golf, cards, fishing, bowling and volunteering.
On reflecting upon his military experience Marvin said in a melancholy manner "I did not get anymore stupid – it's history. That's the way it was back then." A time back then when he lost his two best friends. Enough said.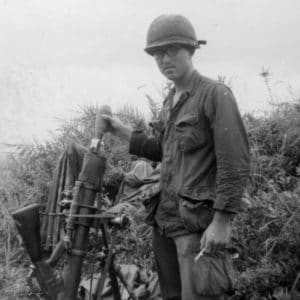 Marvin Bierschbach in Vietnam, 1966-'67.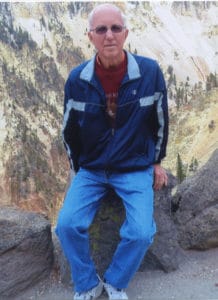 Marvin Bierschbach.