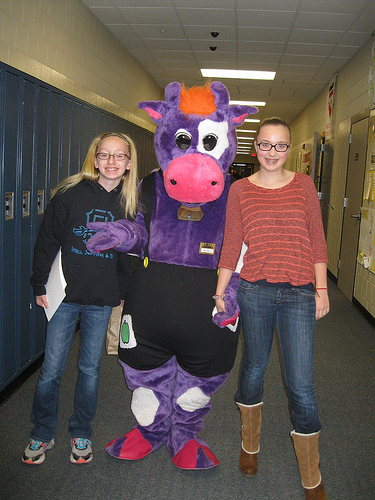 contributed photo
MooBell and Sartell Middle School Student Council members Faith Wannarka and Hannah Congdon.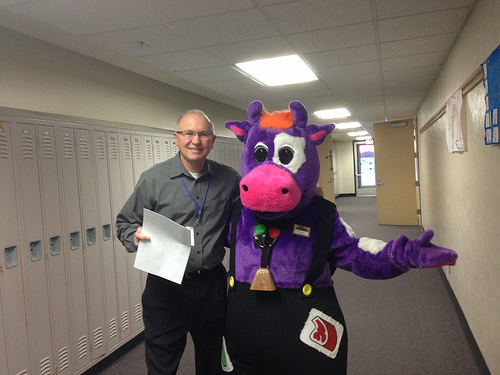 MooBell the Cow recently visited Sartell Middle School to pass out milk.
The goal was to educate teachers and staff about making healthier choices when selecting beverages.
NUVAL is a program sponsored by Coborn's and CentraCare Health Foundations BLEND (Better Living, Exercise and Nutrition Daily) initiative. SMS students have access to the NUVAL scores in the ala carte and vending machines in school.
Taylor Welle, of Sartell is one of many students to receive scholarships from the University of Minnesota, Morris for the 2013–14 academic year. Welle is the recipient of the UMM Alumni Association Academic Scholarship. Welle, will graduate from Morris in 2017 with a degree in English, elementary education.
Three Sartell students were recently named to the fall semester dean's list at Marquette University in Milwaukee, Wis.
They and their majors are as follows: Abigail Frericks, biomedical sciences; and Matthew Peckskamp and Julie Wick, both physician assistant studies.
Five Sartell students were recently named to the fall dean's list at Gustavus Adolphus College, St. Peter, Minn.
They are as follows: Matthew Husmann; Megan Maricle-Roberts; Rachel Scharf; Janelle Thienes; and Mallory Waytashek.
Students must earn a 3.7 grade-point average or higher to earn the honor.
Thomas Findlay of Sartell was recently named to the fall semester dean's list at Rochester (Minn.) Community and Technical College.
To qualify he achieved a grade-point average between 3.0 and 4.0.