by Mike Knaak
editor@thenewsleaders.com
Michelle Fischbach can keep her state Senate seat while serving as lieutenant governor.
A Ramsey County District Court judge on Monday dismissed a lawsuit against Fischbach, a Republican who represents the Sartell and St. Joseph areas in District 13.
The lawsuit challenging the dual roles was premature, the judge wrote, until the Legislature starts on Feb. 20.
The judge dismissed the lawsuit without prejudice, which means a new one could be filed or the ruling could be appealed.
As president of the Senate, Fischbach automatically became lieutenant governor when Gov. Mark Dayton named former Lt. Gov. Tina Smith to fill Al Franken's U.S. Senate seat after he resigned.
The ruling has political implications because Republicans hold a slim 34-33 seat advantage in the Senate. If the judge had ruled that Fischbach had to give up her Senate seat, a special election would be needed.
Fischbach said she will not accept the lieutenant governor's salary.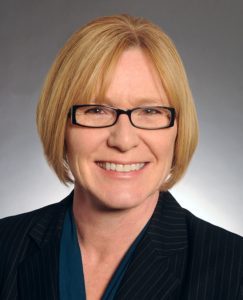 Sen. Michelle Fischbach