If any readers have tips concerning crimes, they should call the St. Joseph Police Department at 320-363-8250 or Tri-County Crime Stoppers at 320-255-1301 or access its tip site at www.tricountycrimestoppers.org. Crime Stoppers offers rewards up to $1,000 for information leading to the arrest and conviction of those responsible for crimes.
June 9
12:19 a.m. Medical. 210 Iverson St. W. Thirty-year-old St. Joseph male requested transport to hospital. Officers stood by and waited for Gold Cross ambulance to arrive. Victim was transported to St. Cloud Hospital.
4:24 p.m. Warrant. CR 2/280th Street. A female was transported to jail after officers confirmed a warrant for her arrest during a routine traffic stop.
June 11
2:08 p.m. Unlawful burn. 124 6th Ave. NW. St. Joseph female was burning evergreen leaves and branches that were newly cut. Nothing she was burning was wrong. She said she would wait until the materials had dried more thoroughly to reduce the smoke.
4:56 p.m. Gas drive off. 27 Birch St. W. Clerk notified police of a no pay for gas in the amount of $25.90. Complainant described vehicle as a white or silver pickup pulling a boat. Provided plate number; found a phone number out of Slayton, Minn. Elderly male said he was in Slayton and he was looking at his pickup. Could not have been him. Asked complainant to review camera footage; he stated cameras are not functioning so not able to review. No further action taken.
7:35 p.m. Welfare check. 93 Greenwood Lane, Sartell. Officers arrived on scene and were unable to locate a 19-year-old male whose mother was concerned about his whereabouts and feared he was suicidal. The father of a friend knew how to locate him and his friend. St. Cloud police stopped the vehicle, made contact with both parties who assured them everything was OK.
June 12
8:52 a.m. Dog at large. Minnesota Street E. Complainant called to report a black dog running at large. She said it went into a yard on Minnesota Street E. Officer went to the residence and was told their dog had not been out. Complainant was advised to call again if dog is seen.
2:13 p.m. Theft. A resident called to report one of the hanging flower baskets had been stolen at a cost of $200. Black iron. The date it was noticed missing was June 7. The basket was found Jun 18 undamaged in a backyard on Minnesota Street W. It was returned to city maintenance.
2:44 p.m. Driving complaint. Minnesota Street W. Avon resident complained of someone driving erratically. Officer located vehicle on Minnesota Street and identified the driver, who said he has had some vision issues he is seeking medical attention for. He was advised of the situation. He was not intoxicated. Officer issued warning for driving conduct.
9:57 p.m. Driving complaint. CR 75. A report was received of a driver driving the wrong way on CR 75. No license plate or vehicle description was given. Caller stated vehicle was traveling east bound in the west-bound lane from CR 133. Officer checked CR 75 from CR 133 to Waite Park. Vehicle was not located.
June 13
8:34 a.m. Deceased person. 12th Avenue SE. Caller reported a 45-year-old deceased male at her home. Officer arrived and verified male had no pulse and was cold to the touch. Body was transported to Ramsey County medical examiner's office per family's request.
4:32 p.m. Two-vehicle accident. CR 75/Cedar Street E. Vehicle one, driven by a 28-year-old Avon female was stopped facing west in the left lane of CR 75 near Cedar Street E. Second vehicle, driven by 47-year-old St. Joseph male, stated traffic was backed up and he didn't realize it and rear-ended vehicle one. No injuries were sustained by either party. Vehicle two, which sustained front-end damage, was able to be driven away from scene. Vehicle one sustained read-end damage and needed to be towed. Driver from towed vehicle was picked up by a friend.
June 14
2:12 p.m. Harassing calls/texts. St. Joseph. A 40-year-old St. Joseph male reported a 29-year-old St. Joseph female was harassing him through phone calls and texts during his visitation time with their daughter. Officer spoke to the mother who was using expletives while conveying she didn't want the father's new girlfriend around her house. Officer advised the mother if she'd stop swearing, the outcome might be better. The father agreed to talk to the mother about the situation over the phone and try to work things out.
5:57 p.m. Person assist. 1st Avenue SE. Officer arrived on scene. Found elderly male sitting next to toilet. He was attempting to transfer to his wheelchair and slipped off. No injuries. Officer lifted individual onto wheelchair.
6:32 p.m. Suicidal male. 3rd Ave. SE. Officer spoke with complainant on phone who stated his son continues to make comments about suicide. Earlier that evening his son was calling friends to ask what the best way is to commit suicide. Complainant wanted to speak to son first to see if he would be willing to go to hospital for evaluation. Father asked officer to assist if son refused. Officer met with both at their residence and son was willing to go to hospital. Officer stayed on scene until father left with son.
June 15
12:56 a.m. DWI. CR 139. Officer witnessed driving conduct and made contact with the driver of the vehicle behind the Middy in St. Joseph. Officers spoke to 27-year-old St. Cloud male and detected alcohol odor on male's breath. Driver agreed to breathalyzer test, which he failed. He was transported to hospital for blood test, then transported to Stearns County jail for booking.
3:21 p.m. Welfare check. Baker Street E. Officers made contact by phone with a 25-year-old St. Joseph female after her 25-year-old Belgrade male partner asked officers to make a welfare check. Female said she is staying at a safe place. Officer advised she pursue an order for protection and distance herself from the male who has made threatening comments to her recently.
6:44 p.m. Deceased female. 10th Avenue SE. Officer arrived on scene and observed 88-year-old St. Joseph female lying on floor. She had no pulse and was not breathing. Officer attached AED and began CPR. Rescue arrived on scene shortly after and assisted with CPR. Ambulance arrived and took over primary care. Spoke with daughter and gathered information on patient. Patient was pronounced dead. Officer contacted a doctor and filled out medical examiner forms. Body was transported to Ramsey County. Photos taken of body, scene and deceased's medications.
10:04 p.m. Custody dispute. College Avenue N. A 33-year-old Kimball male called seeking assistance in retrieving a tablet from a 28-year-old St. Joseph female. They share a son in common and it was the mother's weekend to have him; she gave the child to the father because it was Father's Day but wanted the father to return the child that same night as it was during her normal visitation time through June 18. When the father didn't comply, the mother withheld the tablet. Officer advised both parties needed to work this out with an attorney and through civil court. The mother returned the tablet to the father who then left.
11:42 p.m. Found property. Date Street W. Call that someone found a cell phone in their driveway. Officer found the number that belonged to the cell phone, called owner and returned the phone.
June 16
5:59 p.m. Suspicious smell. 10th Avenue SE. Officer arrived and was met at door by the complainant. Strong smell of something burning in the oven, however oven was not in use as the owner just returned home. Officer checked exterior and adjoining neighbor's residence with no evidence of anything burning. Fire department arrived and continued to check.
7:02 p.m. Assist person. Elm Street E. A 23-year-old St. Cloud male requested assistance to retrieve his belongings from his 21-year-old ex-girlfriend who he said was supposed to have brought his belongings to McDonald's at 6:30 p.m. and never showed up. While officer was there, complainant received a text stating his stuff was outside her apartment building and he could pick it up. Officer followed him to the apartment building to retrieve his property.
June 28, 29 and June 30
[media-credit id=50 align="alignleft" width="300″]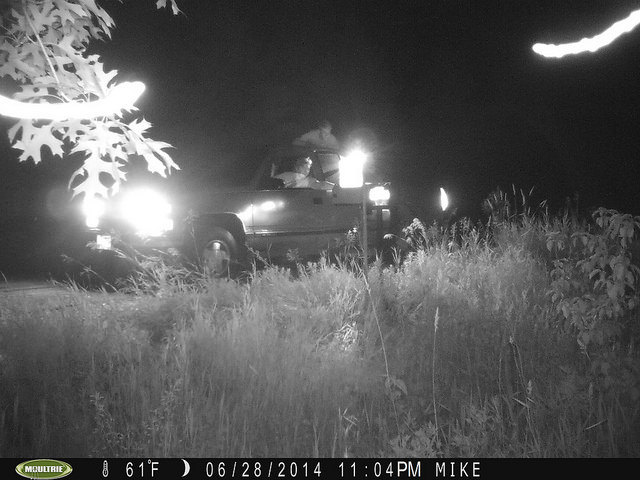 [/media-credit][media-credit id=50 align="alignleft" width="300″]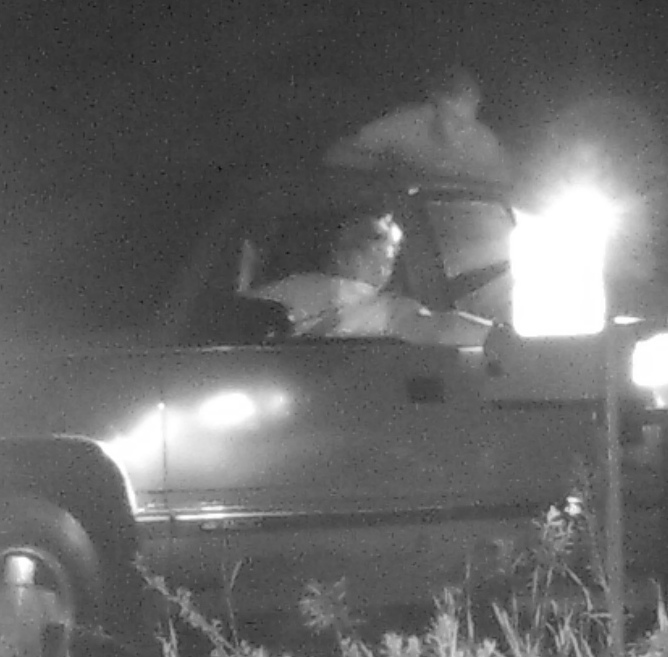 [/media-credit]
Vandalism. The Stearns County Sheriff's Office is currently investigating numerous complaints of vandalism and criminal damage to property. The complaints involved damage to mailboxes and traffic signs located in the townships of St. Wendel, St. Joseph and Brockway. The incidents occurred during the overnight hours of June 28 and 29. During the overnight hours into the early morning hours of June 29 and 30, the Stearns County Sheriff's Office received several further reports of vandalism/suspicious activity possibly relating to the previous evening. Two reports of tires on fire on the road and a report of a hay bale on fire on the road all occurred in Avon Township. The vehicle mentioned was similar to the one from the previous evening. The Sheriff's Office is also releasing the photos of potential suspects in the mailbox and other vandalisms from June 28 and 29. Anyone with information on the truck and/or its occupants is asked to contact the Sheriff's Office or Crime Stoppers. The Sheriff's Office is requesting anyone with additional complaints, suspects and/or suspect vehicles or any other information in reference to these crimes contact the Sheriff's Office at 320-251-4240 or Tri-County Crime Stoppers at 1-800-255-1301. Tri County Crime Stoppers www.tricountycrimestoppers.org. Stearns County Sheriff's Office e-mail sheriffinfo.co.stearns.mn.us.
July 1
4:07 p.m. Fatal work accident. Protech Repair, 32653 CR 2, St. Joseph. The Stearns County Sheriff's Office responded to a report of an adult male being run over by a semi-truck. St. Joseph Police, Fire and Rescue, Gold Cross Ambulance and North Air Ambulance also responded. Responders found an unresponsive male and attempted life-saving measures, but were unsuccessful in reviving the male. The male was pronounced dead at the scene. He was identified as Christopher Clavin, 45, of St. Cloud. Investigators learned Clavin was a tow-truck driver for Collins Brothers Towing from St. Cloud. Clavin was sent to Protech to retrieve a disabled tow truck (also owned by Collins Brothers Towing) and tow it back to the Collins Brothers shop to have an engine put in. Workers at Protech reported they saw Clavin as he was in the process of connecting both tow trucks to prepare for a tow and they continued with their own work. At one point they heard a shout and went out and found the disabled tow truck was no longer near the towing vehicle and had rolled back, apparently rolling over Clavin. Workers attempted CPR and called 911. Both tow trucks were semi-tractor-size tow trucks and owned by Collins Brothers Towing. The incident remains under investigation and the Sheriff's Office is being assisted by the Commercial Vehicle Division of the Minnesota State Patrol and U.S. Occupational Safety and Health Administration.